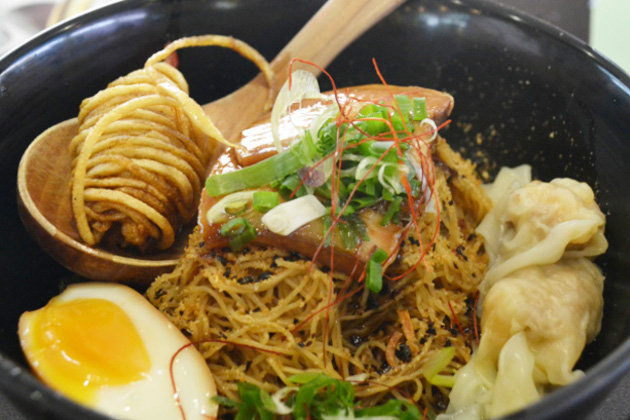 Wanton Mee, by any other name..
By Jade Hu - Tuesday, Dec 10, 2013
From bak chor mee, laksa, char kway teow to mee rebus, we are spoiled for choices in Singapore. Even the finicky have it good. And now, there's one more to add to their list. This noodle dish is topped with fancy potato-wrapped prawn, melt-in-your-mouth pork slices and a fat and juicy wanton dumpling. A strange yet familiar combination, but they call it Singapore-style ramen or "good-to-eat noodles" (好吃面), as its Chinese name suggests. Located in a corner of Amoy Street Food Centre, this stall manned by an energetic double act is a breath of fresh air amidst its more traditional counterparts. Former classmates at a local culinary institute, SHATEC, Gwern Khoo, 32, and Ben Tham, 31, decided to ease their entrepreneurial itch and hence, "A Noodle Story" was born.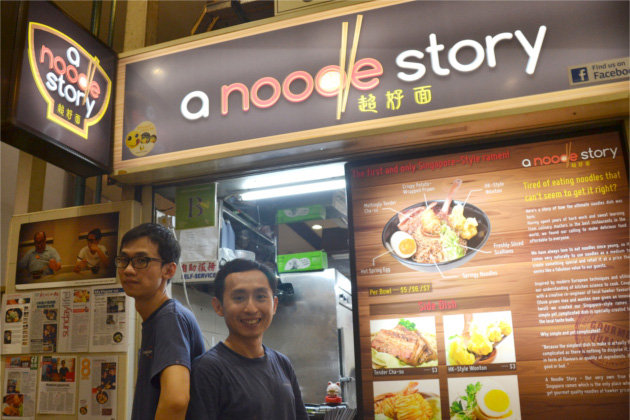 But the story is…it's basically wanton mee to us, albeit topped with extras to justify a higher price tag. So what's with the "ramen" branding?
Apart from the sleek design of the facade and the relative youthfulness of the owners, one could not help but notice that their Singapore-style ramen, at S$5 upwards a bowl, is a tad pricier than what we are accustomed to at hawker centres. Essentially, it's mee kia, not the kind of ramen as you had been seduced with all this while. So, why call it ramen when it is not (though all yellow noodles can technically be termed ramen, but we are talking about popular food culture here)?
"Ramen is just a name for noodles," Khoo replied matter-of-factly. It can refer simply to "noodles in clear soup with meat and vegetables in it", he distils his knowledge about food history. The burning question we have is…is this all hype and naming skills? After some prodding, they admitted to using the term "ramen" as a way to catch people's attention, from your curious neighbourhood auntie to the indecisive Gen-X office workers hunting for their noon bites. But are they biting?
Despite the duo's marketing know-how, their experience in the food business, as well as the meticulous calculations done before their entrepreneurial voyage, business was not as brisk as expected. One reason could be the price, set in a hawker centre where most meals average at least a dollar cheaper. We also can't say it's a badly made dish nor is it a hawker master's product.
In their polished response to this, Khoo and Tham spoke about providing great service and top quality, and above all, the best bang you can get with your buck. While many people may find S$5 pricey for a 'wanton mee'-like ramen, they are serious about giving their customers the best value. On one occasion, out of 450 eggs that they ordered to make that oh-so-fine Onsen-style tamago (egg) sitting in your ramen dish, they rejected two-thirds of it because the eggs did not meet their standards. As for the crispy yet succulent wanton, they use a combination of 100% fresh pork and roasted sole fish, much like how the Teochews do it.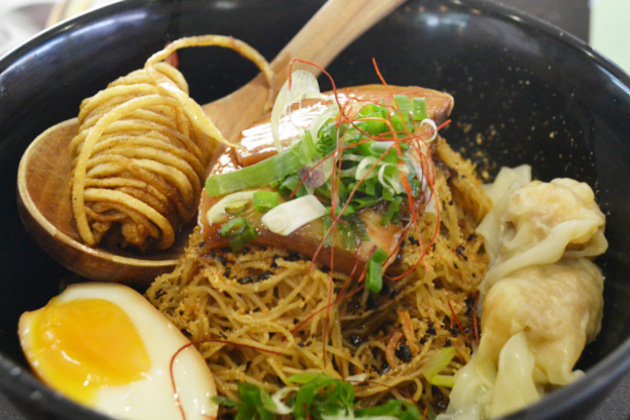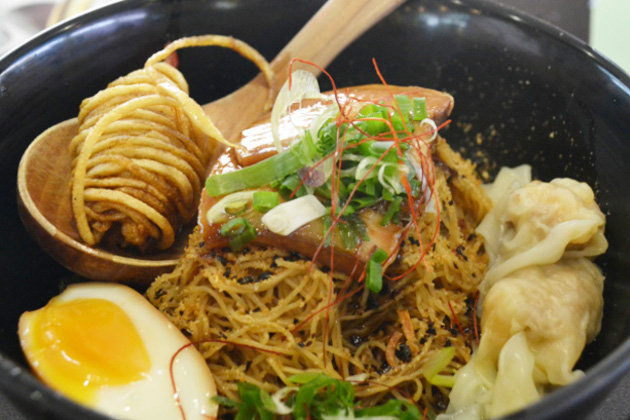 They also retain the traditional ingredients such as the tender char siew and freshly sliced scallions sprinkled on top, while incorporating "upsell" and innovative elements such as the potato-wrapped prawn, and the dried-kelp-and-hae bi condiment to spice up the noodles. To achieve this uniqueness is not without challenge. Nine months since their opening, they are still learning what works and what does not. For a few weeks this September, the potato-wrapped prawn, which is one of the main features of the dish, was temporarily unavailable as they ironed out the kinks in their workflow. Since potato oxidises and turns brown quickly, they realised it is no longer viable to painstakingly craft the potato-wrapped prawn by hand, instead they have outsourced the process.
These guys have paid their dues at Iggy's, Waku Ghin, Saint Pierre and Restaurant Andre, and they know their stuff. For a quiet Wednesday afternoon, we could spot a few appreciative customers, who all cleared up every morsel on their bowls of "Singapore-style ramen".
What about the naysayers who are still lamenting about the relatively high prices and the "not-the-real-ramen" noodles? As Khoo quips, "People who know how to eat will taste the difference."
But in spoiled-for-choice Singapore today, everyone is a foodie. They don't care what you name your noodles – just make it good and keep it cheap or realistically priced.
A Noodle Story, #01-39 Amoy Street Food Centre, 7 Maxwell Road, Hours: 11.00am-2.30pm, 3.30pm-7.30pm (closed on Weekends and Public Holidays)