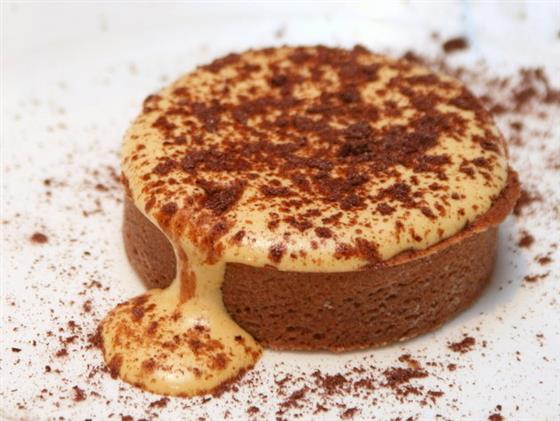 Warm Chocolate Tart with Coffee Zabaglione
By Catherine Ling - Tuesday, Jun 18, 2013
The Italians certainly know a thing or two about dessert. One chef who knows his chocolate well is Domenico Di Clemente of the Michelin-starred Il Palagio at the Four Seasons Hotel Firenze in Florence, Italy.
The Executive Pastry Chef presented his chocolate showcase at The Regent Singapore's Tea Lounge and also shared a recipe during a special workshop for one of his signature creations – the Warm Chocolate Tart with Coffee Zabaglione.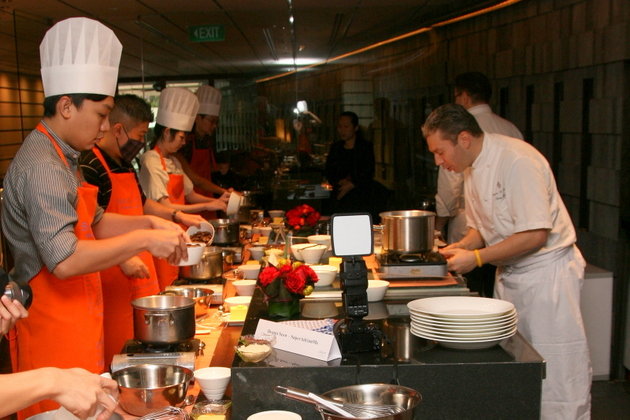 This warm tart with a hint of coffee is the perfect after-dinner dessert. It's fairly simple to make and yet its smooth and intense flavours will charm anyone who loves chocolate.
You will need to make three components – the pastry, the tart filling and the zabaglione – separately and then combine them at the end.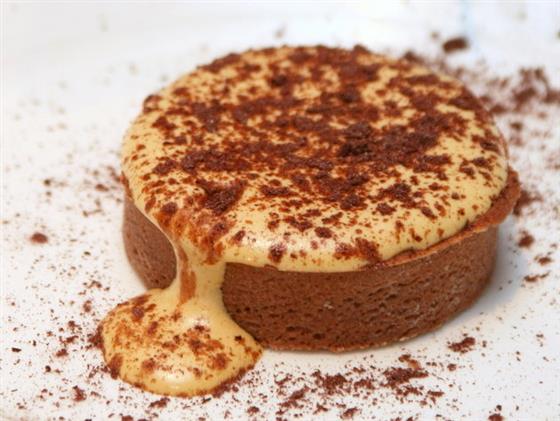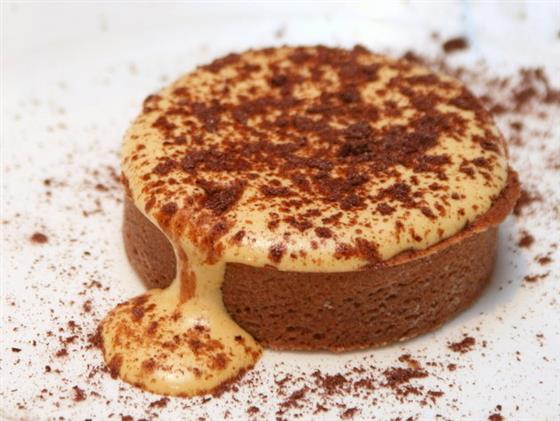 Sweet Chocolate Pastry
Ingredients:
300g soft flour
30g cocoa powder
180g butter
113g icing sugar
38g almond flour
5g vanilla essence
3g salt
66g fresh eggs
Methods:
1. Add soft flour, cocoa powder, icing sugar, almond flour, vanilla extract, salt and butter into a mixing bowl.
2. Mix for two minutes and add the eggs at the end.
3. Keep in the fridge overnight before using.
4. Flatten with a rolling pin and cut out a round base. Bake it in the oven at 180 degrees C for about 10 minutes. Remove and cool.
Chocolate Tart Filling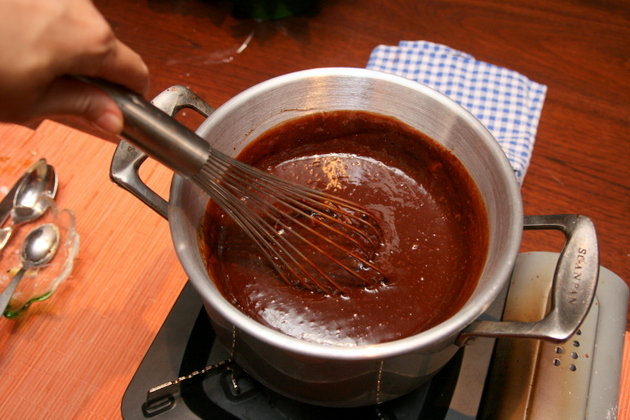 Ingredients:
300g dark chocolate
90g granulated sugar
6 whole eggs
90g butter
5g cocoa powder
5g corn flour
Methods:
1. Melt chocolate in a bain marie(pot warmed over hot water) or double boiler.
2. Whip the eggs with sugar till light and soft.
3. Mix together cocoa powder and corn flour.
4. Pour the mixture into the whipped eggs and combine gently.
5. Add the melted chocolate and continue mixing.
6. Keep the mixture in a piping bag at room temperature. When the tart shell is cooled, pipe in the mixture and re-bake the tart at 180 degrees C for another four minutes.
Coffee Zabaglione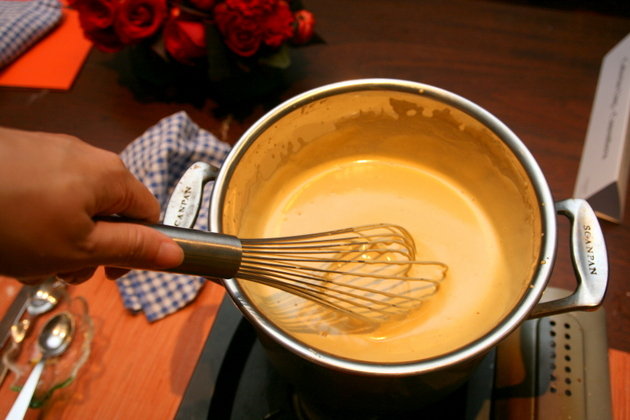 Ingredients:
170g egg yolk
70g water
150g granulated sugar
2 espresso shots
Methods:
1. Combine all the ingredients together and whip in a bain marie till warm.
2. Remove the mixture from the bain marie and place it in a glass bowl. Keep whipping until soft and light.
3. Spoon the Coffee Zabaglione onto the baked tart.