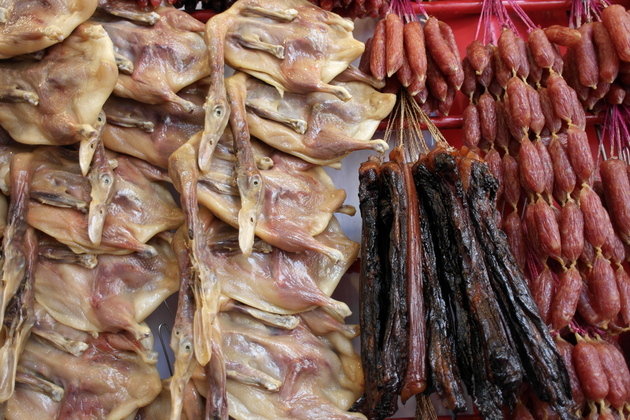 Wax-meat Your Way to a Smooth Year
By The Feiloh - Thursday, Jan 31, 2013
The Chinese New Year is definitely not the time to go on a diet.

While high-carb snacks like pineapple tarts and peanut puffs are the norm, believers in low-carb, high-protein (and high-fat) diets can seek refuge in traditional Chinese "waxed" meats.

These meats are usually sliced and cooked with seasonal vegetables like Chinese leek, "chi gu" bulb (arrowroot) added to the multi-ingredient potted dish "poon choy".

For sure, Chinese sausages are available year-round in Singapore in our supermarkets but only in a limited range of varieties. For the CNY period, these meats are displayed in all of their manifold glory.

For a limited time only, consumers can find pork sausages, liver sausages, streaky pork belly, pressed duck, boneless duck thighs, and even preserved dace fish.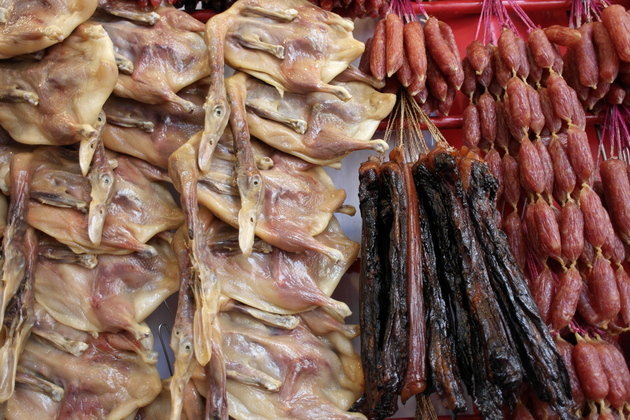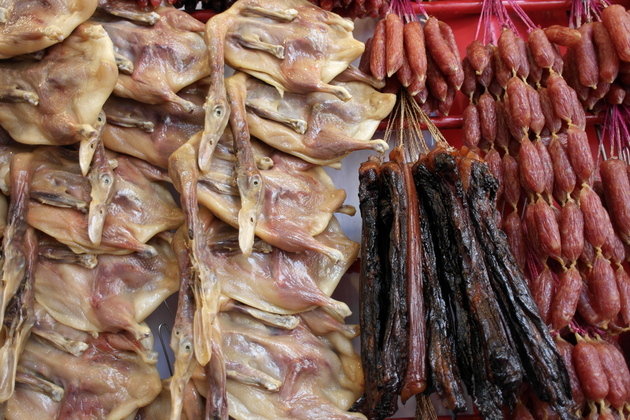 There is even a specialty sausage that is made from pork lard encased with liver, just in case you need to raise you've been malnourished the year before.

Mr Wong, supervisor at the Da Guangzhou stall in Chinatown, explains that the term "waxed" meat is a misnomer, for they contain no wax. The Chinese term simply refers to the technique for preserving them.

In the days of yore, when nothing grows in the fields in winter, farmers hang smoked marinated meats in the open to cool them in the breeze.

Mr Wong said: "When Spring comes around, people will eat these meats to celebrate the New Year. Modern people may try to minimise their fat intake, but to the poor, meat is a rare treat and fat is a luxury."

He continued: "People believe that consuming oil and fat at the beginning of the year will ensure smooth sailing for the rest of the year."

So how should one choose their basic sausage or "lup cheong"? Is price alone a good guide? Like most foods, one should choose those that were made diligently and with a bit more care.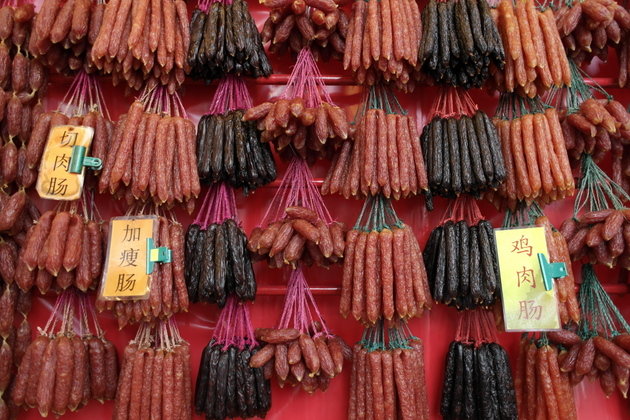 Mr Wong said: "We have sausage made from machine minced meat as well as hand-sliced meat. I personally feel that the hand-sliced ones are made with more care and passion. Those are the ones I would recommend.

"We also have chicken sausages and pork sausages with reduced fat content for people who wish to enjoy the taste with less fat," he said.

Besides the meat versions, liver sausages offer a richer taste. Here, you have your basic pork liver sausage, the slightly more expensive duck liver sausage and premium goose liver sausage. For the gourmand who demands the fullest flavour, there is the "gold-and-silver" lard-and-liver sausage.

These seasonal delicacies are available for a limited time only. Stored in the fridge, they can last up to six months. So what are you waiting for? Get your annual fix before it's too late.