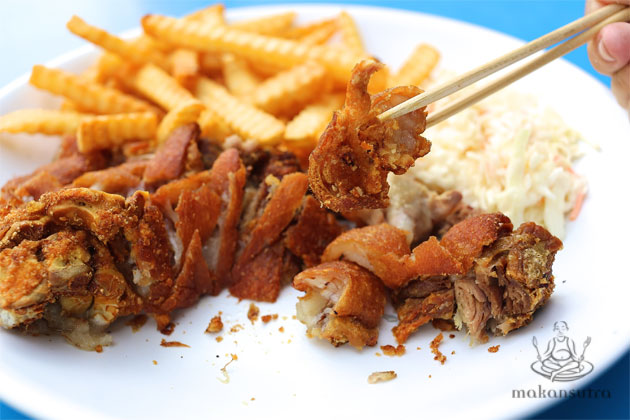 Western Food 85: Eating German Pork Knuckle with Chopsticks
By Cecilia Joven Ong - Tuesday, Aug 26, 2014
Have you ever tried eating German Pork Knuckle, local style, with a pair of disposable chopsticks? This is exactly how Henry Tay serves it at his western food stall. His stall moved in June from the food centre directly opposite, after being there for 12 years, to this coffee shop, which he operates with his wife.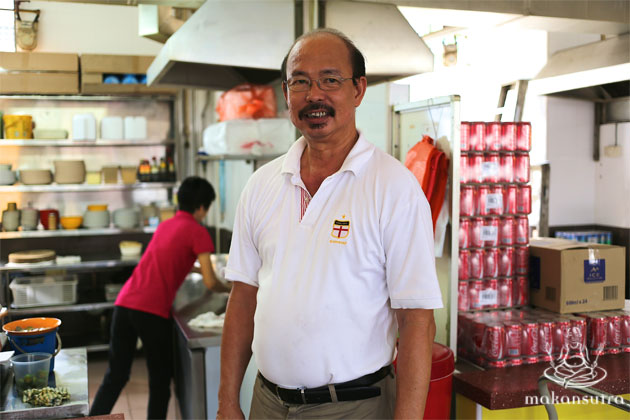 His former landlord sold the food shop, and he had to vacate the premises. He laments, "Business now is not as good as before because only the regular customers know about their relocation."
Their specialty is Crispy German Pork Knuckle served with French Fries and Coleslaw for$16. The same dish is priced at $30 and above at most of the German restaurants and cafes in town.
Henry worked in Werner's Oven, run by Werner and Nancy Hochbaum, for many years, and that is how he learned to prepare the German Pork Knuckle together with other dishes of German cuisine. He said, "I have tried to include German cuisine in the menu, but the response was not as good as expected, partly due to the steep prices, as most of my customers are local residents in this area."
He then decided to serve only the usual western fare like Chicken Chop, Pork Chop, Beef Steak, and Fish 'N' Chips, but kept the German Pork Knuckle as the signature item. If the dish tastes familiar, it's because Henry is the brother of Nancy Hochbaum, and he uses the same recipe for German Pork Knuckle created by Werner Hochbaum, his brother-in-law.
Henry mentioned that he uses only pork knuckles imported from Brazil to prepare the dish. He marinates these pork knuckles using spices and salts for at least 24 hours, then slow cooks them for about 3 hours, before chilling. The pork knuckles are rested and fried upon order, then served right after to guarantee the freshness and crispiness of its texture.
He is thoughtful in cutting up the pork knuckle to bite-sized chunks so it becomes chopstick-friendly, too. It comes with sachets of chilli sauces and the brown sauce is only available upon request.
So, how does it taste? I was pleasantly surprised that its standard surpassed my expectations, and it is even better than some of those that I had eaten at German restaurants in town at twice its price. I particularly enjoyed the amazing crispiness of its skin as well as the moistness and tenderness within, despite it being deep-fried and not roasted. The Pork Knuckle was nicely marinated and delivers on flavour – good enough on its own sans condiments.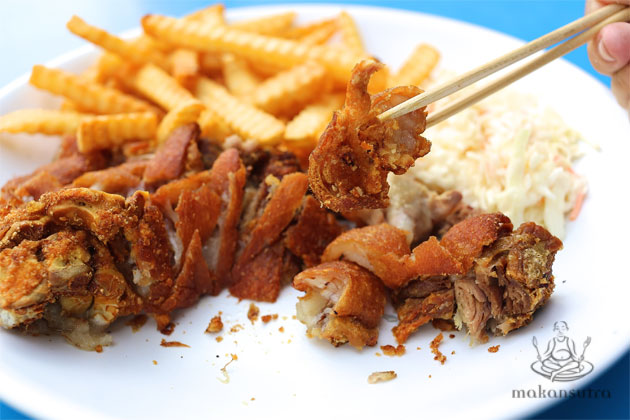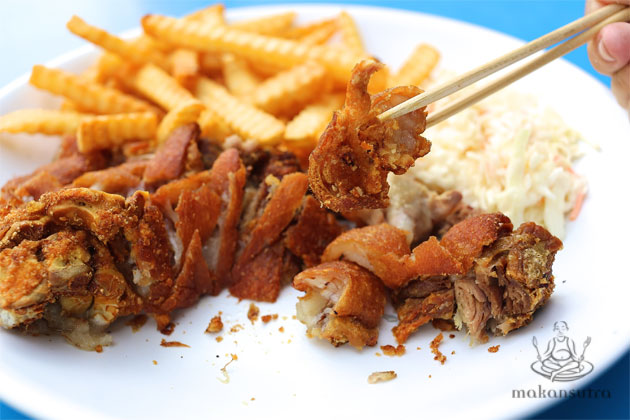 The coleslaw is definitely a refreshing alternative as compared to sauerkraut, since I am never a fan of the fermented sour cabbage. The shredded cabbage and carrot still retained their crunchiness and tasted fresh. The fries were deep-fried and served hot – a welcome side dish to complement the Pork Knuckle.
His stall also serves Peranakan dishes like Belachan Fish (1 for $3.50/ $4.00/ $5.00), Curry Mutton ($4.50), Curry Chicken ($3.80), Curry Pork Ribs ($4.00) and Curry Vegetable ($2.00/$3.00). His Nonya wife prepares the dishes, and he proudly recommended it.
It might not have the ambience to go along, but it was still a memorable gastronomic experience.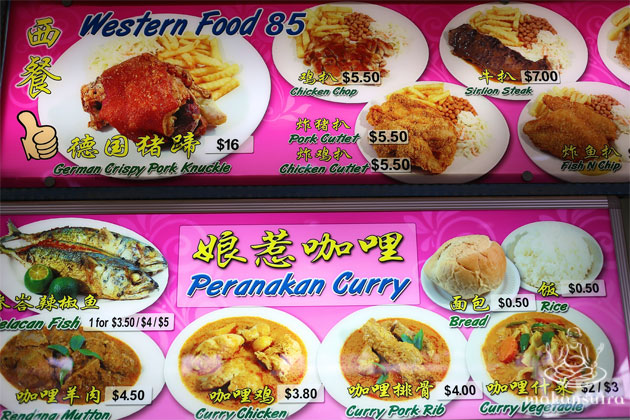 Western Food 85
Block 86 Bedok North Street 4 #01-165 Singapore 460086.
11.30 am to 9.00 pm (Closed on Wednesday)