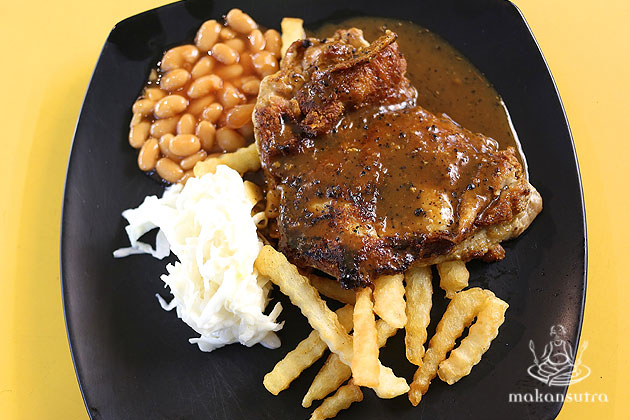 Western Hawker Stalls: NOTEWORTHY HAWKER WESTERN FOOD STALLS
By Cecilia Joven Ong - Friday, Jul 10, 2015
Enjoying western food in a casual atmosphere like our coffee shops and hawker stalls have always been a simple yet slightly costlier enjoyment. Even so, it is still cheaper and as good, if not better as compared to those served in cafés or even restaurants (we note the less that stellar reviews Gordon Ramsay's Bread Kitchen garnered, even for his humble fish and chips). The standards of these hawker stalls are getting higher and they serve it no-frills with no service charge (nor service) or GST added to maintain their competitiveness while keeping their prices low. Listed are 5 noteworthy western food stalls that are worth trying.
THE CARVING BOARD 
Block 252 Jurong East Street 24 #01-107 Singapore 600252
Operating Hours: 5.00 pm 10.30 pm (Closed on Mondays)
Chef Gary Lum closed down The Soup Bar at Tanjong Pagar Food Centre in December 2014 and started this at Jurong East in February 2015. They took over the entire coffee shop in the evening, serving a selection of affordable and delectable burgers, pastas, steaks and chicken chops. Patties for their burgers are all handmade from carefully selected cuts of meat with just the right amount of fat-lean ratio. One of their popular choices is the Classic Grilled Beef Cheeseburger ($11.00), which consists of a thick and juicy patty with bacon, cheese, crunchy preserved pickle, tomato and lettuce. Their Rosemary Chicken chop ($7.50) left an impression; it was nicely grilled to infuse it with a distinctive smoky flavor and served with garden salad and fries.  They do serve beer along with bar bites too.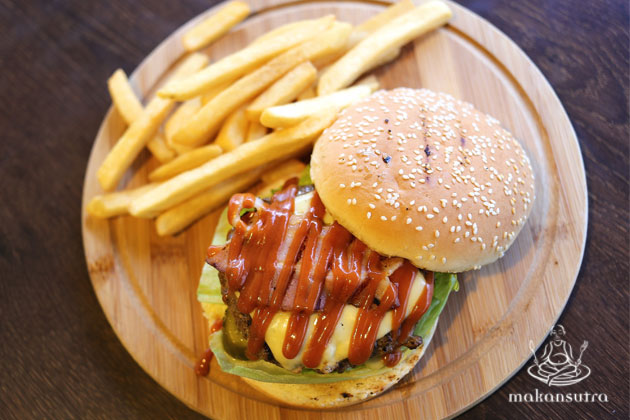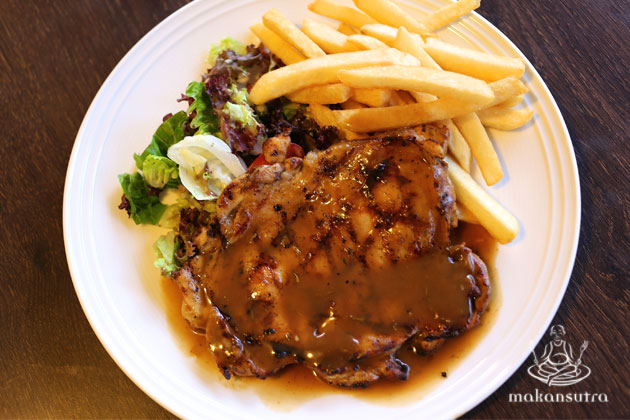 MINISTRY OF RIBS
Block 416 Pandan Garden #01-125 Singapore 600416
 28 Dover Crescent #01-97 Zheng Hua Kopitiam Singapore 130028
Operating Hours: 11.00 am to 10.00 pm (Daily)
This is a hidden gem serving tasty ribs, steaks and burgers at affordable pricing started by Kleiser Lee. Most of their food are prepared daily to ensure its quality and freshness. They are famous for their ribs that are made using only selected pork spare ribs, which are done perfectly to give it the full flavor.  Their signature Ministry Burger ($13.90) is a must try. It consists of juicy beef patty with cheese and crispy fried battered onions served with 1 side dish. Steak lovers should try out their Prime Ribeye Steak (200 grams) at $13.90 that is cooked at the doneness of your choice and served with 2 side dishes. A good range of red and white wines along with imported craft beer are available at their main branch at Pandan Garden.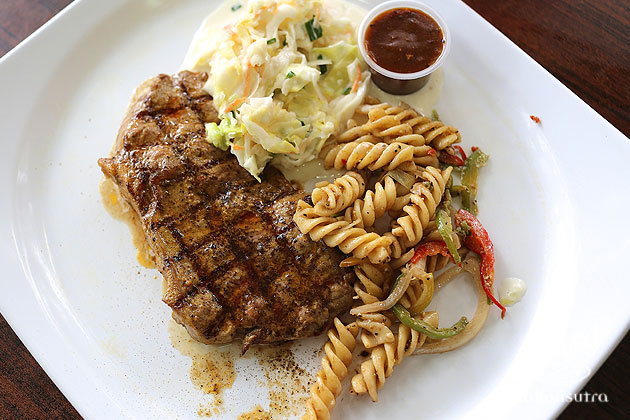 YE LAI XIANG TASTY BARBEQUE WESTERN FOOD
1 Kadayanallur Street #01-94 Maxwell Food Centre Singapore 069184
Operating Hours: 6.00 pm to 10.00 pm (Monday to Friday) (Closed on Saturdays & Sundays)
Chef Leong started this Hainanese-style western stall in 1971 and they moved from the already demolished Margaret Drive Food Centre to the current location in 2012. Joel Leong has since taken over the stall from his father. Their signature brown sauce created decades ago by the late Chef Leong is a great hit with their customers. The recipe created in the early 70s has not been altered since then. Their must-try has to be the Chicken Chop ($7.00) that is arguably one of the best in Singapore. It served along with baked beans, french fries, bun and butter. The Chicken Chop was pan-grilled to give it a slightly charred texture and smoky flavor.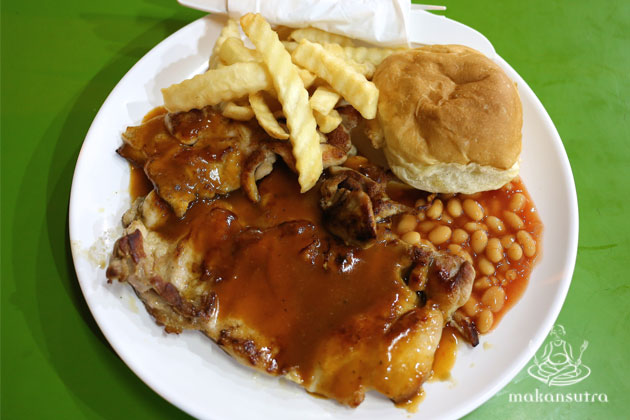 BIG BERN'S AMERICAN GRILL
978 Toa Payoh North #02-01 Singapore 319001
Operating Hours: 11.30 am to 3.00 pm (Monday) / 11.30 am to 9.00 pm (Tuesday to Sunday)
Bernie Utchenik, the same man that founded Botak Jones started this stall serving the same American rustic style comfort foods. He has moved on from his original brand and is now nestled comfortably in this food court. Their Cajun Chicken ($9.90) is a must-try, the chicken breast is served with melted mozzarella cheese and Cajun sauce. Another signature dish is Fish & Chips ($7.90) that is serves in a big portion using good quality fish with their homemade tartar sauce that complemented the dish well. Their good quality Sirlion steak is still one of their most sought-after choices. If you are not too hungry then maybe you can try their Louisiana submarine sandwiches or Po' Boys and burgers.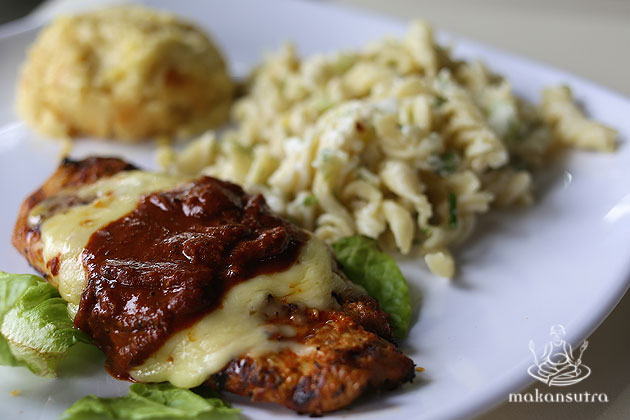 WOW WOW WEST
6 Jalan Bukit Merah #01-133 ABC Brickworks Food Centre Singapore 150006
Operating Hours: 11.00 am to 8.30 pm (Tuesday to Saturday)
This western food stall is known to serve traditional western fare like Chicken Cutlet ($6), Chicken Chop ($6), Pork Chop ($6), Fish N Chip ($6) and Steak ($7) was started by Eric Ng. The taste is very comforting and they used to serve their dishes in a big portion but have somewhat reduced it recently, likely to prevent food wastage. Each order comes with a portion of coleslaw, fries and baked beans. Their Chicken Chop is one of the most popular choices here. The lightly seasoned chicken chop is served with tasty black pepper sauce that enhanced the flavor. The perfectly deep fried Chicken Cutlet is another tasty choice. Their refreshing coleslaw has always been a personal favorite. You could choose to add on cheese sausages for an even more substantial meal.