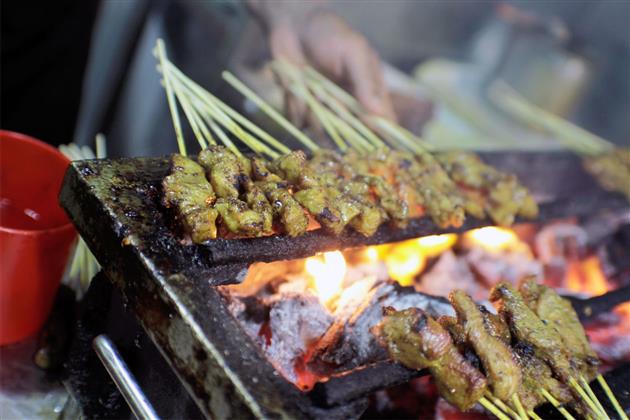 What type of a Supperman are you
By KF Seetoh & Nadia Tan - Friday, Jan 31, 2014
The Chinese New Year season is upon us – even more reason for folks here to meet up for supper whether to hang out with friends, or because they have missed a meal due to the long overtime working hours. Some others prefer the late night atmosphere as it is more toned down as compared to the massive dinner crowd. So, when it gets later and the streets are less huddled with traffic, we see an increasing amount of people heading out to grab a small midnight snack. And often for drivers – free parking!

And mind you, not many even blink about the related health issues, especially in this festive season. With lesser sleep and later nights, our bodies are more prone to health problems. In a survey conducted by AIA's Healthy Living Index last October, it revealed that Singaporeans are facing increasing health problems that included weight management. With the younger age group being the least likely to reduce salt, processed foods, red meat and saturated oil intake. 91% of Singaporeans also agree with this statement: "I know some things I do are not good for my health." However, many habitual nocturnal munchers like Jonathan Chua still continue to do so. "If you say that supper is from 10pm onwards, then I need my supper time to help me sleep", he says. Keeping a full stomach is one of the necessities to ease him into a good night's sleep.

The fear of a supper belly is not on Kenning Koh's mind. To this Max Brenner franchise owner, supper holds a special meaning. "Before we were married, I would take my wife for supper every week, this became a habit for us", he says. Kenning closes his shop at 11pm at night and usually heads home to take his wife out for supper, before calling it a day. The practice unconsciously became a great bonding time for him and his wife when their kids are asleep and they enjoy spending the quality time together. Of course it helps that Kenning does an hour of hot yoga almost every day.

And although many use their late night makan jaunts as an opportunity to catch up and forge stronger bonds with already close friends and loved ones, Mr Eric Cheong prefers the term "supper" as a time to relive memories of his late mother. The 36-year-old senior account executive would often head down to his favourite stall at the coffee shop nearby his home. His usual dish is the oyster omelette and a glass of teh (tea). "It just brings back memories of her", he says. "The oyster omelette was her speciality." Mr Cheong's mother left them abruptly 8 years ago due to a sudden brain haemorrhage in early 2006. Regrettably, he never learned how to make the dish.

Not everyone's late night supper snack relates in sad memories, of course. These days, our street food hawkers cater to the growing crowd by closing later into the night. With supper spots increasing and the availability of free parking after 10pm, supper these days are made more convenient. "It's cooler at night. The streets are less congested and Singapore has a very vibrant night food culture", says Benjamin Yoon, a 26-year-old recent University graduate. His advice is to remember that a full tank of gas, good music with good company makes for a great supper time.

Even though supper means differently to folks of different strokes, the fact is, it is a lifestyle fixture that had been part of our makan landscape for many decades now. Enjoy, check out these three supping spot below:

M A Deen Biasa
What: Every diner come at the haunting hour to devour their roti prata, murtabak, mee goreng…all the typical Mamak stall favourites. But their signature is the soup kambing. One technique boss Mr Deen introduces is to skim the gamey oils that rises as they cook it. The result, that rich taste with a lot less oil, and perfect when dunked with baguette slices.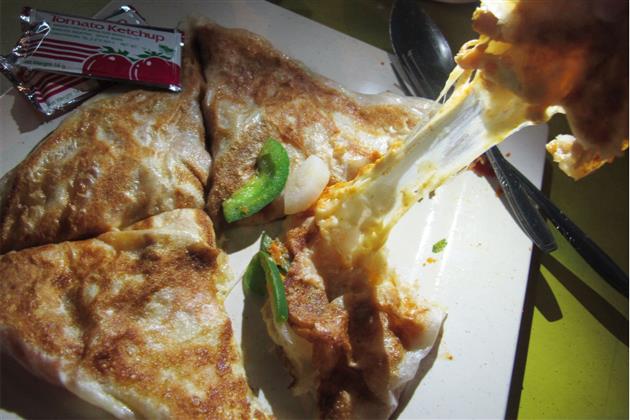 Where: 95/97 Jalan Sultan, 11am to 6am, daily.

Makansutra Gluttons Bay
What: They are one of the biggest suppliers of chicken wings and also operate a few chargrilled chicken wing stalls. Their technique of grilling is a science- hot, cool, grill then cool then grill again…just to get that paper parchment roasty skin and juicy insides. It goes well with their stinging lime chilli dip.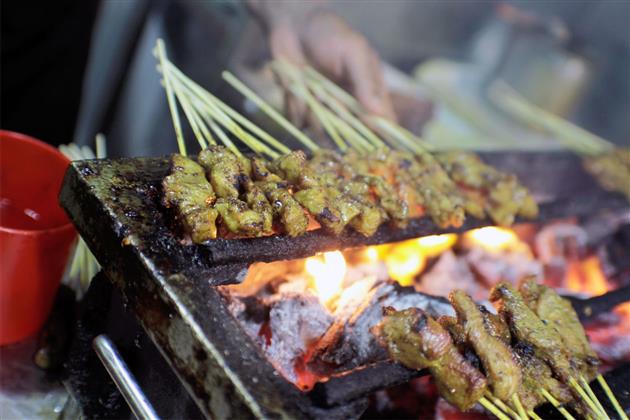 Where: 8 Raffles Avenue, CNY hours on 31 Jan & 1 Feb: 3pm-3am, 2 Feb: 3pm-1am.

Chia Bee Lor Mee
What: At that bewitching hour, this lor mee is a saviour. They starchy sauce is smoothened with an egg drop technique and they top it quite generously with fried fish slices. Stir in the minced garlic and black vinegar and this dish will wake you up at that hour.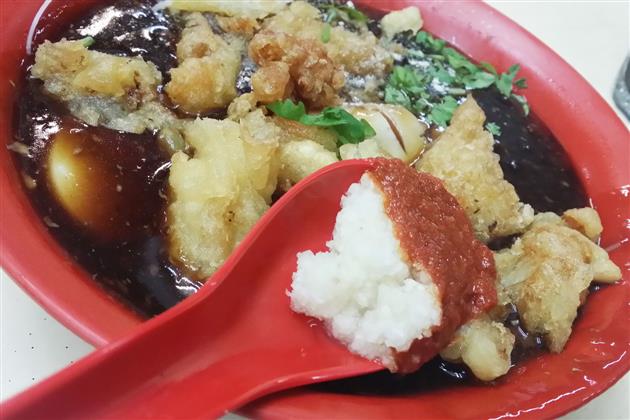 Where: 10 North Bridge Road, 2am to 11am daily (except Mondays from 2am to 8am). Closed on every last Monday of each month. Note: They will re-open after first week of CNY