Where to have a Vegetarian Feast this CNY
By KF Seetoh and Sheere Ng - Tuesday, Jan 22, 2013
If you are a vegetarian sitting amidst this impending meat and seafood feeding frenzy, which is the Lunar New Year, you may be squeezed out of the party. But fret not, look closer and you'll realise you're actually spoiled for choices – from the meaningful, functional to the decadent. So, don't even think about nibbling on pre-made salads in one corner and wallow in isolation, for that is not in the spirit of the season. We pluck and harvest five interesting places and this is the show and tell below.
Miao Yi Vegetarian Restaurant 
587 Bukit Timah Rd #03-01/02 Coronation Plaza, 11am-3pm, 6pm-10pm, opens every day during CNY, 6467 1331
Those who haven't been here before will be surprised that an old mall like Coronation Plaza houses a popular vegetarian restaurant amply filled with mostly Chinese and Indian families. They stand up to their reputation with flavourful and textural mock version of classic dishes. The suckling pig doesn't look or taste like the real deal, but it deserves their "signature dish" reputation. Its fried batter skin is light and crispy, and the inside, made of mushrooms and many layers of bean curd skin, provides a crunchy bite. Another textural delight is the sweet and sour seaweed roll, which is made in-house with stuffed golden mushrooms. As toasty as a good cze cha dish is the stir-fried "oyster meat" made of fresh juicy shiitake flavoured with cut red chilli and Chinese celery.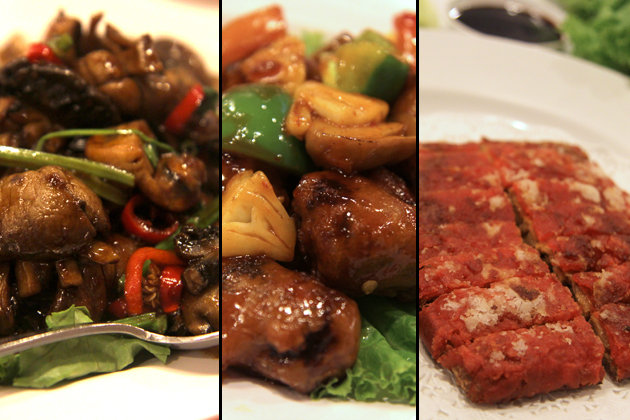 Yi Xin Vegetarian Food
 39 Temple Street, 8am-10pm, close from first to third day of CNY, 9366 6002
This is a place for vegetarians or their companions who crave local street food. The flavours generally resemble their non-vegetarian version, except one or two shortfalls that they could not compensate without the forbidden ingredients (think garlic). The outstanding dishes include sambal sotong, which is bouncy like – but slightly firmer than – fish ball. The sambal is fiery with strong lemongrass fragrance. Also try the satay made with marinated mash beans. The accompanying sauce is peanutty, savoury although lacks fragrance and that spicy oomph. Our favourite is the fried chicken with mango sauce. Not only is the outside layer crispy, the "flesh" made of mashed beans and mushrooms is resilient. This dish must have been very popular because they also sell the frozen ones for those who want to cook at home. They operate in a coffeeshop which they have to themselves.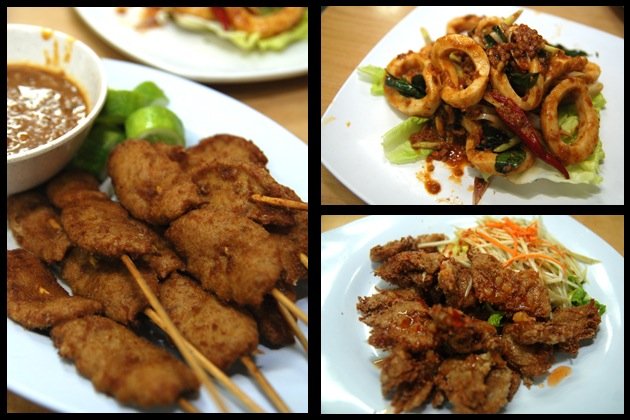 Zen Fut Sai Kai Vegetarian Restaurant 
147 Kitchener Rd, 10am-9.30pm, opens every day during CNY, 6298 0336
Zen Fut Sai Kai is a direct opposite of Yi Xin, offering straight-laced vegetable, tofu and mushroom dishes. But they employ creative preparation and cooking methods to generate imaginative varieties. A simple stir-fried kai lan with oyster mushrooms comes with deep fried bean curd skin roll. Asparagus, on other hand, is accompanied with deep fried bean curd mash dotted with chopped water chestnut and mushrooms. The restaurant's interior looks like its age (60-year-old) and is as peaceful and welcoming as your grandmother's home.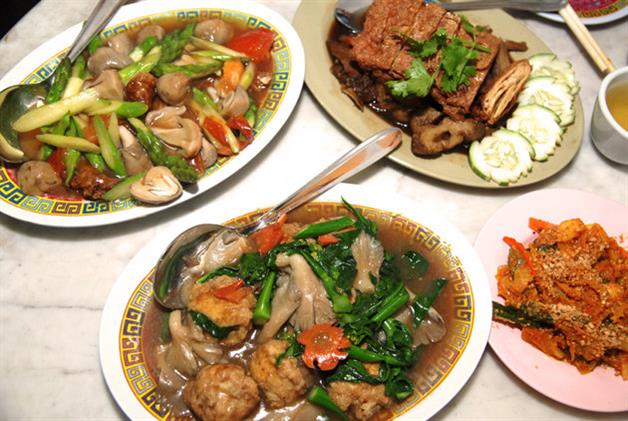 Zai Zai Vegetarian Blk 801, Tampines Ave 4, #01-281, 8am-11pm, opens every day during CNY, 6781 1820

The folks here do to monkey head mushrooms and mock prawns like what their cze cha counterparts do with meats and real seafood. There is decent crowd most evenings and a short wait for tables are necessary sometimes. One term describes most of the dishes… wok hei. They do their dishes over high heat and the fiery and smoky fragrance shines through. The favourites here include their crispy cereal "prawns", the stir-fried monkey head mushroom and the "fish" soup, made with fried yam.

Annalakshmi Restaurant 20 Havelock Road, #01-04 Central Square, 11am-3pm(Mon-Thurs), 11am-3pm/6pm-9.30pm (Fri-Sun), opens every day during CNY, 6339 9993.

This is an established volunteer organisation created decades ago to help the disadvantaged and promote the arts. Some of the best volunteering "aunty and uncle" cooks man their kitchen and churn out a very delectable range of comforting Indian vegetarian dishes. On the buffet table are rice with all sorts of dhal, chutneys, vegetable stews, breads and even briyani. If you ask, they will happily offer you a crispy rolled up masala thosai and fresh puris. They have a "eat what you want and pay what you like" policy, so be generous (but not just during Lunar New Year, but life in general).