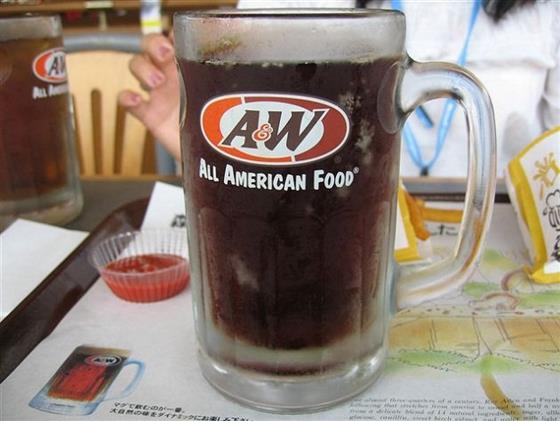 Which Fast Food Chain Was The First To Come To Singapore?
By Gregory Leow, image courtesy of Flickr - Friday, Jun 29, 2012
Singapore had its first fast food restaurant in 1968 when A & W (Alan and Wright), America's oldest franchise restaurant chain, set up shop here as one of the first tenants of the then-new SIA building on Robinson Road, Singapore 0106.
Beginnings
It is all thanks to an American couple, Al and Geri Lieboff, who introduced Singapore to the world of Coney Hotdogs, Frosted Root Beer Floats, waffles and curly fries. They visited Southeast Asia for their honeymoon in 1961 and saw the opportunity of setting up business here.
Hailing from the American state of Nevada, their first venture was in 1963, an outlet at Jalan Tuanku Abdul Rahman in Malaysia. It was also the country's very first fast food outlet. According to Max Gunther's 2011 book, Instant Millionaires: The Secrets of Overnight Success, the opening day caused massive traffic jams as Malaysians swamped the outlet and Al Lieboff sold 800 hamburgers, 600 hotdogs and 60 gallons (227 litres) of root beer.
That was quickly followed by the first drive-in restaurant in Petaling Jaya in 1965, which still exists today.
A&W introduces the first drive-in in Singapore
The flagship branch in Singapore was the A&W along Dunearn Road set up two years later in 1970. Its location is near where the current Adam Road Hawker Centre is, but instead of the side where the hawker centre stands today, the A&W building was on the other side of the road, overlooking the canal. (The canal wasn't very wide back then.)
Looking like a Sumatran Minangkabau long house, it was Singapore's first drive-in restaurant and it wasn't a drive-thru like how many people associate it to be these days.
Speaking to some older folk who had been to the Dunearn Road outlet, some could remember the drive-in and it worked similar to the American hamburger car hop joints of the 1950s.
Cars would drive in and you would park in a sheltered stall, with the cars separated by posts.
In the American system, there would be a back-lit menu next to the car. They had speaker phones, and you would "Call in your order". However in Singapore, it was a bit different. Older folk we spoke to remember that waitresses would come up to your car and take your order.
Waitresses would soon be at your car side with a snap on tray and ask you to roll your window up about a fifth of the way and she would clip a specially designed car tray with your order of hot dogs, burgers and drinks, to your window on the outside of your car.
The American system was such that when you were done eating in your car, the standard signal was to turn on your headlights, and the Car Hop (because the waitress hopped from car to car) would come out and clear your tray and mugs. (Unfortunately, we could not find any older folk who could verify this specific fact locally. Anyone out there who experienced this?)
Back in the 1970s, for Tuesday's Coney Dog day, hot dogs which were usually $2 dropped in price to $1 each.
Since it was air-conditioned, it was a special treat back then for students who studied at the University of Singapore's Bukit Timah campus during the weekdays. It was also a classy joint with metal forks and knives, so it was a popular spot for dates on the weekends.
The special? The root beer which was poured into super frosted heavy root beer mugs and topped off with a scoop of ice cream. Sometimes, the beverage was so cold that you would encounter icicles as you sipped it. (Priced between $1.50 to $1.80 back then)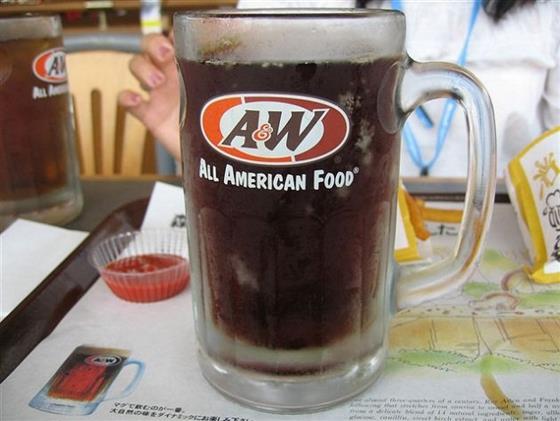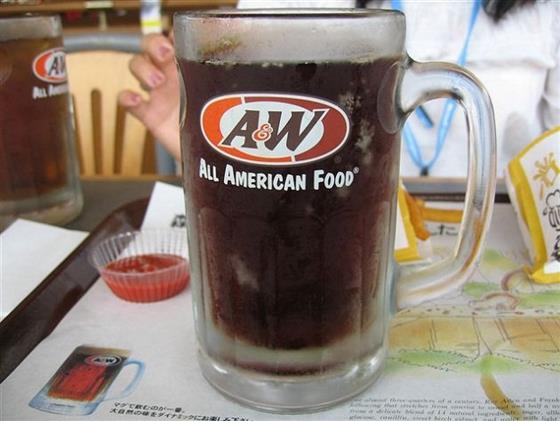 The entry of other fast food chains
It would be a whole nine years before MacDonald's would arrive in town on 20 October 1979 at Liat Towers, Orchard Road and set the world record for serving the world's highest volume of hamburgers in a single day. This record was held until the 1990s when it was broken by McDonald's in Beijing.
In the early 1980s, other fast food joints like Pizza Hut and Burger King came into the scene.
As for A & W, they did not survive the competition and closed its Singapore doors in 2003 and joined the ranks of other fast food joints that have come and gone in Singapore such as Hardee's, Taco Bell, Wimpy's, Milano's Pizza and Chuck E Cheese's.
Today, Batam's Mega Mall, the shopping centre opposite the Batam ferry terminal is the closest place for a Singaporean to get any A&Ws. It's only a 50 minute boat ride from HarbourFront Centre, but a hefty $47 for a two-way trip.
And to think that all this started because of a honeymoon trip to Southeast Asia….