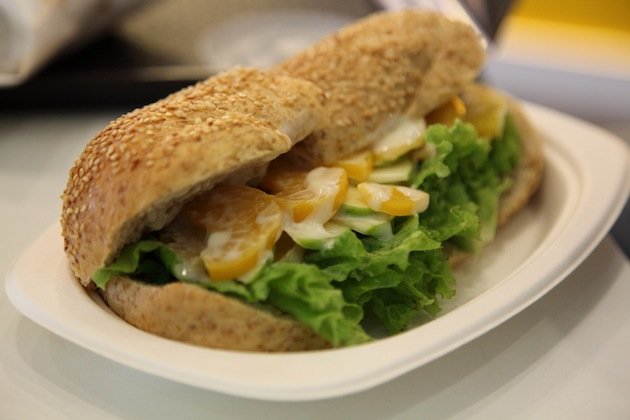 Which Sandwhich is Healthier
By CK Lam - Saturday, May 04, 2013
It is easy finding sandwiches but difficult to find healthy ones put together with care. Recently I got to know Sandwhich, which just opened its first outlet in I-Avenue, Penang.
"This outlet is committed to wellness. Premium grade ingredient of antibiotic free enzyme chicken, pork, fresh tuna and Omega eggs are the choices of fillings. To create healthy and delicious foods, the fresh ingredients are roast and steam except for the pan-fried egg," explains T.W. Fong.
The sandwhiches are made with four types of baked breads: choose from olive ciabatta, wholemeal sandwich loaf, croissant and sesame wholemeal bun. A popular choice is the aromatic ciabatta which has a bit more bite.
For those who have their heart set for pork sandwhich, can choose from the delights such as Prime Porker Ciabatta and the Wholesome Porker. These choices of sandwhiches come with generous slices of roast pork in homemade sauce together with a variety of vegetables including lettuce, purple cabbage, capsicum and zucchini. The Prime Porker Ciabatta is priced at RM9.90 while the Wholesome Porker in a wholemeal bun with homemade mayo sauce cost RM8.90.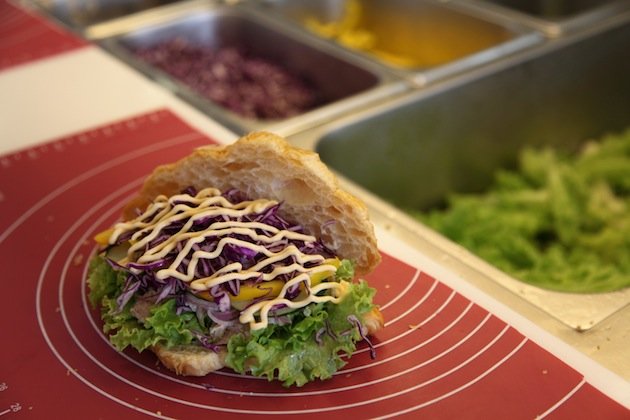 Priced at RM8.90, the fluffy Tuna Salad Croissant with lots of honey combed structure comes with filling of steamed tuna, mayo sauce, coral lettuce, zucchini, capsicum and purple cabbage.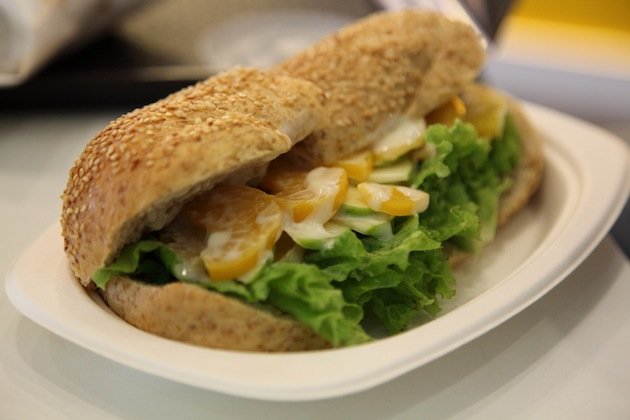 Creative touch is added to the menu with the Fruity Slim Deluxe Wholemeal Bun (RM6.90). Just how it sounded, the fruity sandwhich comes with fillings of fruits, vegetables and home-made mango flavored yogurt dressing. With sweetness of canned peach, crunchy texture and sourness of green apple and refreshing orange, this sandwhich is appealing to customers who avoid meat.
Those having the Chicken Fiesta Puff (RM8.90) will enjoy touches of antibiotic-free steamed chicken breast together with coral lettuce, zucchini, capsicum, purple cabbage and homemade cheese sauce.
For added variety, Sandwhich's offers the Ranch Egg Club. The egg is pan-fried and cheese is added. Also available is the "Create Own Wish" whereby diners can enjoy the make-your-own-sandwhich experience.
Diners can enjoy their meal with warm and cold drinks. The drink menu is comprised of Honey Green Tea (RM 2.80), Organic Soya Milk (RM3.50) and Green Tea Milk (RM 4.90). Yogurt drinks and yogurt with mango and black cherry flavors are available too, at RM4.50 and RM3.50. Sandwhich is also serving a prix-fixe "Daily Promotion" and customers need to add-on RM0.10 for a drink.
This outlet offers a casual environment with business hours from 8am to 9:30pm daily (take away only for orders after 9pm). "We are happy to see many customers coming for our healthy sandwhiches and we plan to add more outlets in downtown," says Fong.
Sandwhich #1-1-42, I-Avenue Medan Kampung Relau 1 11900 Bayan Lepas Penang Tel: 04 6841963