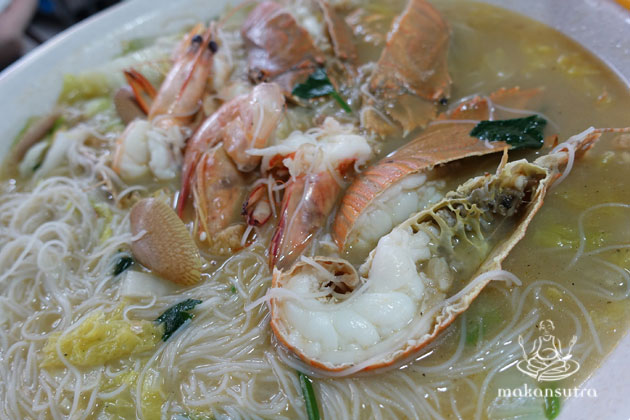 White Beehoon – what's the big deal?
By KF Seetoh - Monday, Jan 25, 2016
Perhaps it's the renaming of an old boring dish called braised beehoon in clear stock or its Cantonese monicker "mun mai fun". But this simple dish, became somewhat of a sensation when a coffeeshop in Sembawang began to call it White Beehoon a few years ago- helped by the fact they delivered a moreish version. Often, it's all about the stock and the braise technique. The dish has gone viral among many hawkers, who either renamed their old dish or decided to ride on that wave and set up shops specialising in just that.
Here's a few popular places for White Beehoon, including a vegetarian version, informed foodies are mad about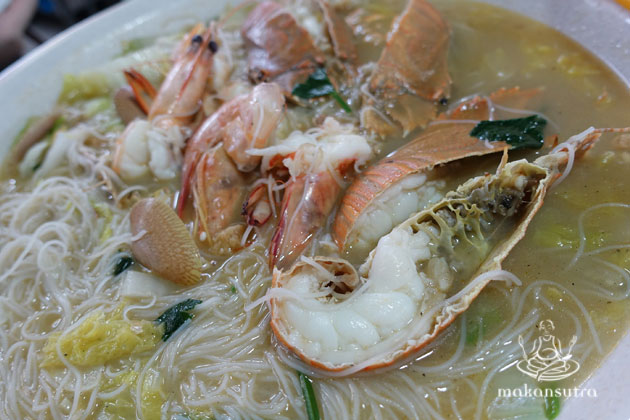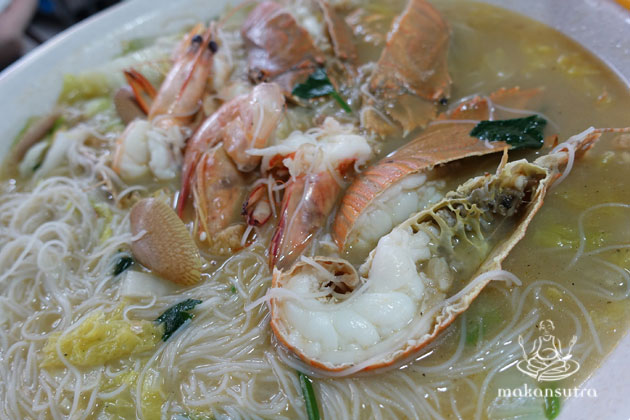 1. East Seafood White Beehoon ,Blk 210 Toa Payoh Lorong 8 #01-48,
Tel: 87151087/81037169
OH: 4pm-8pm, Closed on Mondays
This is a new kid on the block, barely five months old and I counted five people working in that little hawker stall space. The queue is incessant and stops only when they sell out. They do it classic style – firstly by wok charring the noodles for some wok hei (roastiness) before they braise it in the rich seafood stock. One appeal is the stall front, with an ice bed mount of crayfish and flower crabs. A plate starts from $5 and for the larger portions, they use ocean, not river or farmed, prawns. The all-important stock comes easy on salt and soy sauce, so you taste the subtle richness of the seafood. The noodles are soft and smooth but I would like it more if the sauce was just a whisker thicker. Go all out for the $25 version, which come with the works in a huge lo-hei plate.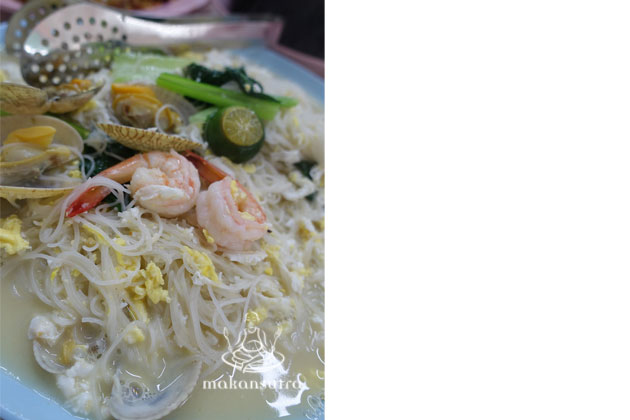 2.Food Odyssey Pte Ltd , 20 Jalan Tampang
Tel: 62573981, OH: 11am-10pm
This little cafe was brave enough to ride on the popularity of the dish made famous by their neighbours. But they are no pushover. The beehoon came as per usual, smooth and very soft but I noticed it was not wok seared. I like the stock, which is very intense with touches of chicken and seafood, and slightly thickened and redolent with egg drops. Their version came simple, just with clams and shrimps and the little lime squeeze was a nice touch. Their prices are like at the hawkers- $7 for a two person portion.
3.White Restaurant ,22 Jalan Tampang
Tel: 62572002. OH: 11.30am-10.30pm, Closed on Wednesdays
This is the one that started the fire on the white beehoon craze. After so many copycats, they still reign supreme and it's not difficult to know why. Their all-important stock is rich, meat delectably riddled with umami and is lightly thick with starch from the slurpy smooth beehoon. A $9 portion for two comes with prawns and squid (very fresh) and the sauce has the egg drop touch. That squeeze of lime gave it at light tangy lift.
4. Bao Bao Vegetarian, Blk 58,New Upper Changi Road Food Cte, #01-148,
OH: 5am to 12 noon, close alternate Mondays.
This is the white vegetarian version. I tried but have no idea how they introduced so much flavour into that whistle clean white beehoon that comes nary oily. Ask for the wet version and they simply slather a brown mushroom flavoured sauce over. The bits of crispy bean skin and vegetarian cha siew and sour sambal are pleasant but insignificant compared to the plain and white tasty beehoon. Go early and you'll see the backs of the heartland aunties in the queue ahead of you.