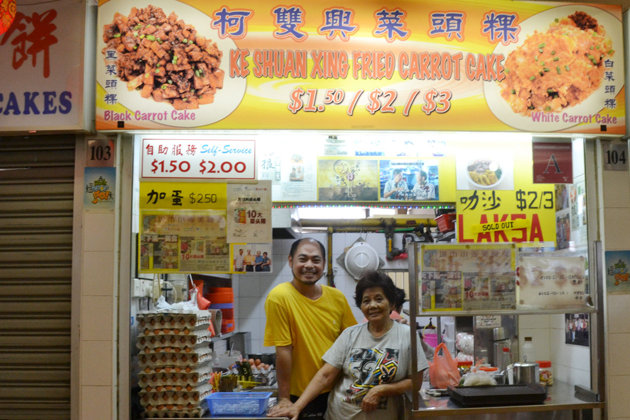 Who Will Next Serve Bak Chor Mee?
By Jade Hu - Thursday, Feb 20, 2014
A few weeks ago, a colleague of mine brought me to her favourite cheng tng dessert stall at Golden Mile Food Centre. To our chagrin, the shutters were down and an ominous "For Rent" sign greeted us.  Of course we were disappointed and astonished and the hawkers next door were also clueless to where the owner went.  It's just one of the usual signs that Singapore's hawker heritage is at risk of dying out.
Often, this current generation of post-war hawkers is just focused on getting by and the question of legacy and continuity never crossed their minds, until it is often too late. For others, they do not want to impose expectations on their children, and there seems to be a common belief by the older generation that 'youngsters' are not cut out for this 'hard life' trade.  While the reasons are varied and seemingly clichéd, one thing is for sure, the slow death of our culinary legacy is upon us if nothing is done about it.
Mr Huang, 55, leaves home at 3.30am each day to begin preparation for his first batch of soya milk at his stall, Redhill Lane Traditional Soya Milk at Blk 85 Redhill Food Centre. He makes a second batch at 9am, and closes up shop when he's sold out or at 3pm, whichever is earlier. One and a half years ago, he took a break for eight months to nurse a surgery, to fix the acute leg pain from "standing for long hours on end". Especially since the traditional way of making soya milk and bean curd involves constant stirring for an hour to make one batch. He is now back to the grind, since he could not afford staying away from work for too long, what with his two children still in primary school and kindergarten. Is he planning to teach his children his skills? He has serious reservations because "they are still too young, and who knows what the future would bring". Plus, he visualized that their careers would involve computers. A firm believer that "traditional is always better", he is however resigned to the likelihood that his legacy will not be carried on.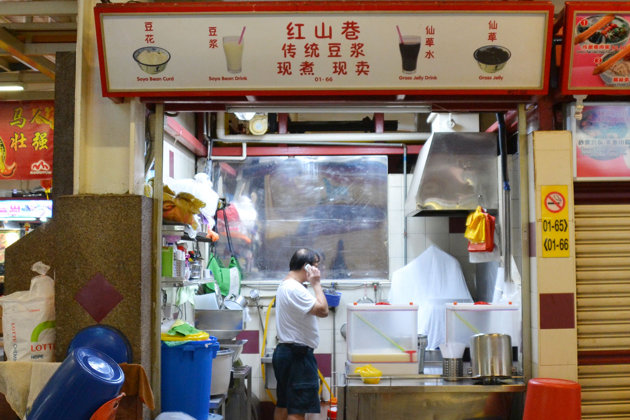 Mr and Mrs Tan, both in their 60s, is a husband-and-wife team at Shun Fa Fried Kway Teow and Prawn Mee at North Bridge Road Food Centre. Mr Tan learnt his frying skills from his father since he was 18, and his char kway teow is popular with his loyal customers. Having worked the wok for more than 40 years now, he and his wife are both adamant about not encouraging their three children to take over the business. So far his children have not expressed a hint of interest either. His desire is for his children to do what they love and even if it meant that their legacy would ebb away after their imminent retirement. As for now, they are "taking it one step at a time", and will keep on serving until they can no longer.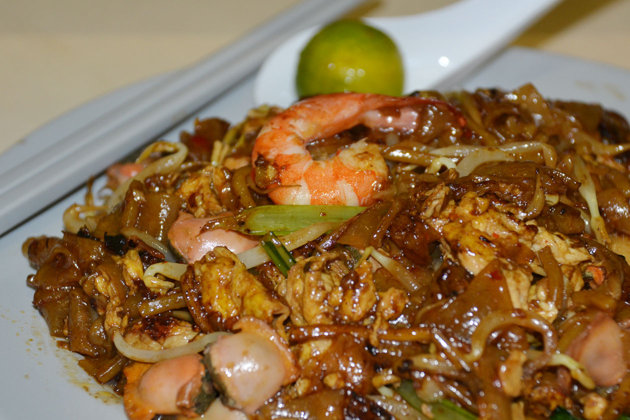 The Tan's neighbour, Mr Ke, 44, is a third-generation hawker, having inherited the Ke Shuan Xing Fried Carrot Cake stall from his father and his grandfather. He recalled his primary school days, helping his parents cut carrot cake using fishing lines till his hands were blistered, and then grinding rice and chilli at home. A good-natured and street-wise man, he said, "Of course, it is tough being a hawker. It never gets any easier, but I can keep going because I am used to the tough life." He left a comfortable career in precious metal recovery to work full-time at the stall in 2009. His passion had always been with food, so it did not seem like he was sacrificing his earlier job for this hawking trade.  He understood the nature of a hawker's life since young, and now takes to it like fish to water. Mr Ke is not married and does not have any children, and the issue of continuity is far from his mind.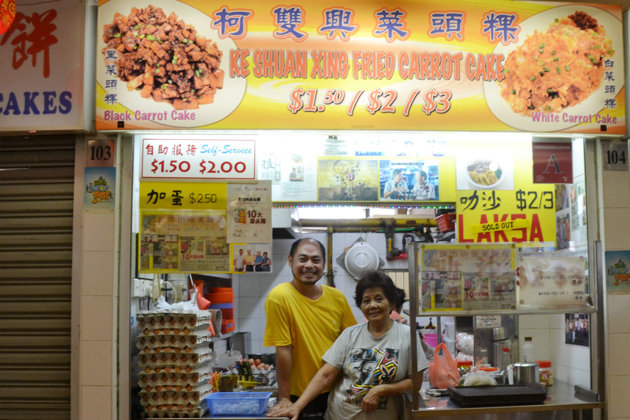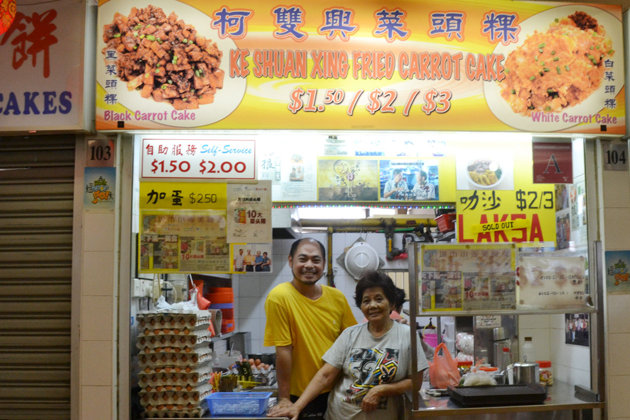 Mr Cheung, 63, owner of Fatty Ox HK Kitchen at Amoy Street Food Centre, is known for his top-quality Cantonese dishes at affordable hawker centre prices. He believes that learning to cook well is like a Shaolin monk in training – one has to start from the lowest level, which is what his son has been doing so far, helping out during school holidays and in his spare time. Mr Cheung's son is thinking about carrying on his father's legacy, but his priority now is to finish his university studies first. Time will tell if he returns to join the army of new-generation highly educated yet street-smart hawkers.
A much talked about approach of preserving Singapore's hawker food heritage is to engage existing hawkers to teach potential new ones how to cook a particular dish, and operate a hawker stall. Many hawkers are either not familiar or not interested in such hawker training programmes. Mr Huang suggested that people are naturally more inclined to pass their well-guarded knowledge and 'family recipes' to their own children, or at least within the family. Madam Chen, who sells peanut pancakes (mee chiang kueh) at Redhill Food Centre, felt that it is better to focus on her work, instead of "thinking too much" such as sharing her hawker experience to students. Others like Mr Teo, 56, owner of Keng Heng (Whampoa) Lor Mee at Golden Mile Food Centre, and his wife are so busy that they have no time to entertain the thought, let alone spend a whole day or two teaching.  While they understand the need for continuity, they need to take care of their everyday survival before adding more tasks to their already-full plates. So when more traditional old hawkers retire, think, who would make that bowl of bak chor mee or roti prata for your children and the future generations? We should do more to preserve this, as it's a great food culture worth fighting for.