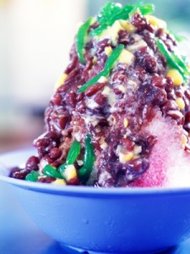 Why are there no Singapore Resturants?
By KF Seetoh - Sunday, Sep 04, 2011
National Day is around the corner and buzzing in my head, literally. I work not far from the floating platform and we can hear the roar of the fly-past jets each time they make a sortie. I can imagine what these precision pilots go through everytime – pinpoint coordination with razor sharp reaction. I can also imagine them flying over some of our national monuments , and I mean the popular hawker centres and makan hubs. I suppose they make a loop over the Marina Bay area- cruising over food hawker centres like Golden Mile at Beach Road, Old Airport Road, East Coast Lagoon, and it all happens in seconds before they swoop back over to city ones like Chinatown, Maxwell and perhaps Pasir Panjang as make their way back to Marina Bay.
I ask, Mr Pilot, if at all you pause for a moment and give a quick mental salute to your favourite true blue Singapore restaurant as you zip over below. Do you even know or have one. I sincerely doubt so. Cruising over No Signboard Seafood, Ya Kun Kaya Toast, Toast Box or even the prata joints at Seletar area does not count. They are very famous and iconic to us but it's not quite a Singapore restaurant, because, there are no such thing as a Singapore restaurant.
It's ironic that food, our most famous cultural icon, way more famous than the Merlion, has no real manisfestion or living monument of its own, other than a hawker centre. Make this quick note- there are Thai, Indonesian, Japanese, Penang, Mexican, Korean and Cambodian eateries around, even America, the land of anything-goes, have their own restaurants, but no Singapore ones. As I look forward to another day of grand celebration of our nation's 46th birthday, and rest comforted that food is portrayed in the celebrations, albeit in a dance, I wonder aloud – where are our national restaurants. Before we search where, I must ask first, what is a Singapore restaurant.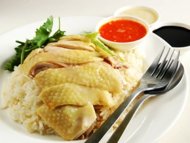 The Hainanese Chicken rice loved by all Singaporeans
You can find south east Asian, Malaysian or Straits Chinese restaurants all over the world. Some claim to have Singapore heritage but you'll inevitably find Indonesia nasi goring and Thai som tum salad in the menu and perhaps a Pinoy chef in the kitchen. So, is there a true Singapore restaurant model we can emulate, one we can actually give some cultural award to. The Hainanese and Fuzhou kopitiam cafes, which offer a range of original fusion flavours in a coffeeshop concept, heads the list.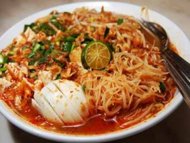 Mee Siam made from thin rice noodles in a sour spicy gravy
These kopitiam are now something we call our own. Think chicken rice, mee siam, roti kaya, local kopi, nasi lemak packs, custard puffs, pork chops, laksa and half boil eggs- and you have something your tummy unquestionably celebrate.
But often, the menu is not extensive, don't you just wish there is one out there that also offered starters and soups like a mini rojak or Yue Sang platter, with bak kut teh or soto ayam. It would also be great is the menu listed mains like Cha Hae Mee with king prawns, seafood Mui Fan (chinese risotto), lamb shank nasi biryani, ocean treasure satay beehoon or even Hainanese surf and turf grill platter like chicken chop with fish and chips.
Ice Kachang, a local dessert to complete your meal
And before you settle for desserts like coconut ice cream over pulut hitam and peanut ah boling with pandan gula melaka sauce, they offer a palate awakener like buah kedondong (golden apple) and sour plum ice kachang sorbet. Won' t the menu itself win you over or at least win some some heritage award as you are pondering it over the after dinner kopi milo dinosaur.
I applaud chefs that look in that direction. Willin Low of Wild Rocket takes his Italian kitchen training and flavours it with local touches- like localised cha siew burgers and congee cream with swimmer crabs and egg. I am also awaiting the comeback of Damian Da Silva, the big and bold French trained chef who returned to his Singapore childhood basics with sambal buah keluak, Devil's curry, salted fish and sambal crab pastas. He closed his Soul Kitchen and Big D eateries and is now planning his next big gig.
All these soulful interpretations of the big flavours in our little red dot, is fine, but give me the soulful deal itself. Until then, can the pilot toot the horn should you fly over one real deal Singapore restaurant here as you fly past them, perhaps there is one out there now that I missed.