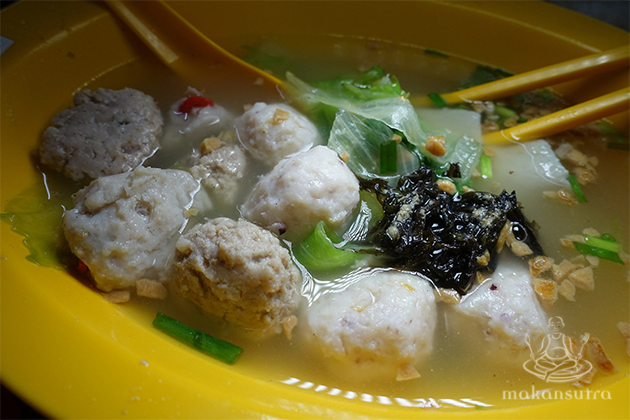 Why some dishes appeal in Hong Lim Food Centre
By KF Seetoh - Friday, May 19, 2017
What makes one dish work in a particular place and not another. If I only had a dollar every time I was asked that question. I would fly you in my private jet to my holiday castle in Europe to answer you personally. But seriously, what works where and why is still something many can't put a finger to.
But this much I know, and I will use the example of three dishes in the "lunch only" Hong Lim Food Centre. This place has a little trickle of breakfast fans and it jams up at lunch and then calms down for dinner. These are three basic things anyone should bear in mind before selling whatever you want (assuming you already have a decent recipe). The first is- location, then demographics (what kind of customers will you get) and finally, the convenience factor (is there public transport, parking and is there ready footfall each day). So, with these in mind, lets dissect some (and there are many there) of the favourites of mine in Hong Lim Food Centre.
Hong Lim Food Centre, Blk 513A, Upper Cross Street.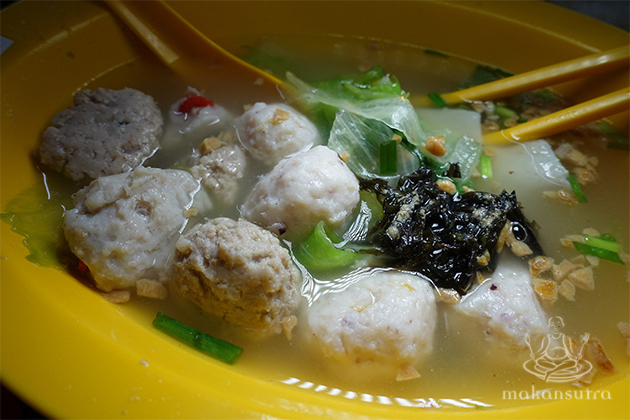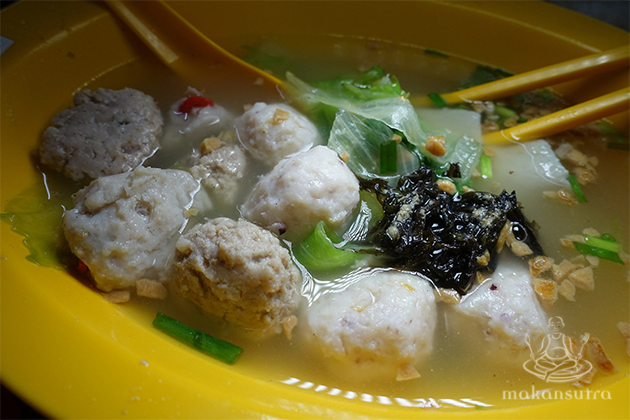 Dong Fang Hong Sotong Ball Seafood Soup, 01-47. 10am-3pm, Mondays to Thursdays only.
There is a perpetual queue right to the last portion every day. The owners says they now open only four days a week because of the lack of supply of fresh squid (which is what makes their own-made sotong balls peerless). They add pork and fish balls to it and you have it with rice or noodles. It is really all about the quality of the balls and even the soup is almost bland. Dip the sotong ball into the chili soy sauce, pop it in with a spoon of rice, and you feel the comforting pleasures of this dish. I feel this works for a few reasons. It's an old iconic stall to begin with and the lunch crowd at this CBD area largely likes soupy stuff, from fish ball noodles to seafood soup or prawn noodle soup. It is easy to eat and not taxing on the tummy.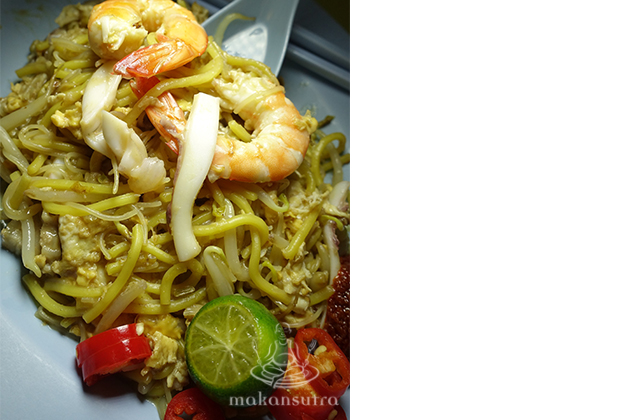 Cuppage Fried Kway Teow Hokkien Mee, 01-60, 12pm-7pm, Monday to Friday only.
Mr Cher Kay Hiong is the second generation of that famous stall from the defunct Cuppage Hawker Centre in Orchard Road. They were relocated here since 1995 and he now runs the place with his wife. He says, "This is the only stall that sells fried hokkien mee here" and I suspect two reasons, one is that this is a big old name to take on, and the other, is the cost of such dishes are rising (remember how fresh squid is getting scarce and pricier). So foodies have only one top choice. One magic in their dish is the all-important stock, the noodles absorb them well and their version is not the wet soggy type but the moist drier rendition. The other is the sambal, not sweet nor salty, but just spicy and it kicks the spicy notes up a few notches once you blend it with the noodles.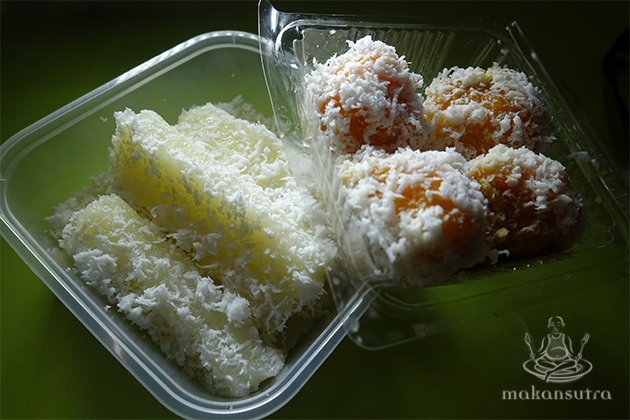 Ah Meng (tapioca cake and onde onde), 02-45, from 830pm till sold out, Tuesdays to Sundays only.
The aging Mr Lee steams a big pot of sweet potatoes right before your eyes, just to let you know he makes them fresh, batch by batch. His onde onde, is done with some potato starch, which gives it a soft bouncy texture which many, but not me, likes. And the little chunk of moist gula Melaka inside, is that expected finishing joy you seek in any onde onde. I love his melt- in- the- mouth soft tapioca cake. It is hardly sweet, uber soft and lemak as he dusts them with copious amounts of grated coconut.