Will 2 dollar meals continue to stay?
By KF Seetoh - Friday, Aug 03, 2012
The underprivileged can look forward to continue having $2 meals at the new hawker centres set to be opened from next year. The people that run the makan arm of NTUC has agreed to introduce basic but fairly substantial rice or noodle meals at $2 a portion. They were handed the task by the government to manage and run these new hawker centres, the first one being at Bukit Panjang. Currently, they are already operating a chain of chap chye rice (economic rice stalls) that offer sets at $2.
Bravo! Clap, clap, clap!
But before you put them up on the pedestal of angels and bodhisattvas, or think of them as someone out to provide some relieve for the disadvantaged of their hardship, think again. There are already a big group of market-forces driven hawkers who are offering decent $2 meals in this city. They weren't given any special governmental privileges nor do they have access to cheaper supplies from mega suppliers like NTUC Fairprice.
"I persuade the fishmonger to sell me very cheap, saying that he won't lose money and that I need to make some" says Mr Boh, who is recovering from a stroke, and with his wife, runs Aroma Cafeteria (stall 01-191, Blk 58 New Upp Changi Road food centre), a nasi lemak cum chap chye rice stall.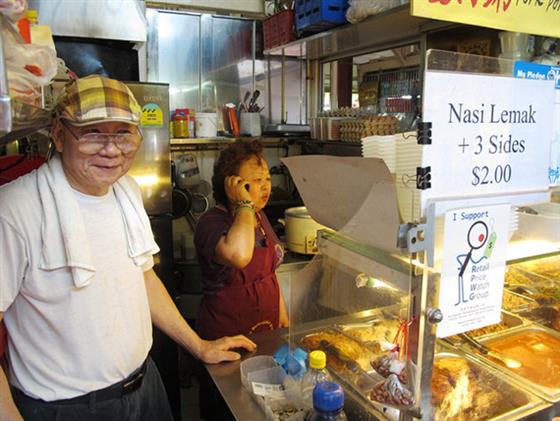 At 71, he just gets by and passes time at the stall hawking nasi lemak sets with fried chicken wing, a wedge of omelette, stir fried green beans and a very well made sweetish and thick sambal – at $2. "I have no manpower cost, so whatever profits we get, we live by it," he says. "I can't sell more expensive as this hawker centre is very competitive and there are many poor customers here who have trouble affording even $2 for a meal. Sometimes I close one eye and give free to them la."
A quick look around this food centre shows at least six stalls offering similar or other rice/noodle meals with a basic $2 price tag. This is also where two of the best mee rebus stalls in Singapore are offering their standard portions at $1.50 or less.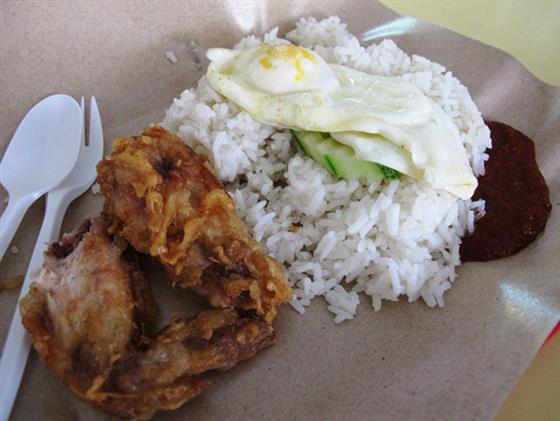 At Blk 17 Upper Boon Keng Road (food centre), Chang Le Vegetarian stall (01-63) happily offers three items (including fried spring rolls, soups, deep and stir fried items) over rice at $2 to a steady line of feeders each day.
Out in the west, you can see a long appreciative queue for cheap and good $2 chicken rice at Hoe Kee Kitchen (#01-39, Blk 505 Jurong West Mkt and Food Ctr, Jurong West St. 52) "$2 chicken rice is affordable for young kids and the elderly and the portions are suitable for them," says owner Mr Lau Chiew Yak.
All these hawkers sell it cheaper also because there is a huge demand from the economically challenged in our society. And there are way more of them than meets the eye. The real applause, hence, should be reserved for these hawkers or any movement that ensures the continuity of such efforts and deeds.
One idea – as many in their middle age or twilight years would have no qualms operating such stalls to "pass time, keep busy and get by" and to dignify their independence, there could be a need to provide training and opportunities for them. And if they promise or guarantee to sell it at around $2, subsidies and funding support should be provided by the concerned private and public sectors.
Perhaps, NTUC should not monopolise this space and nudge these humble hawkers out of the market. They should instead stay away from hawker centres that already has a decent collection of stalls selling $2 fare. Better still, if they can provide for them cheaper food and operation supplies through their altruistic NTUC business operation model, then it could help those who want to help themselves and the poor. If not, then someone could enter the fray and be a supply aggregator – buy in bulk for a big group of $2 meal hawkers and pass the majority of savings to them. No entrepreneur here is going to be poor if he or she has a humble base pool of, say 50 hawkers, as customers each day.
But the real headache is the ever rising cost of fuel and food costs. Every cent of increase in petrol and transport cost, will put a big pressure on such hawkers. We should be mindful that cheap food here won't always mean $2, as labour and rental costs are slowly but surely inching up.