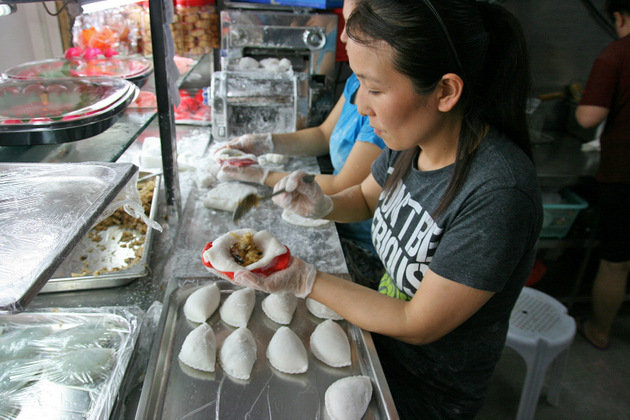 Will Traditional Handmade Kueh Survive?
By Catherine Ling - Monday, Dec 24, 2012
It's not an old, cranky, protective tradesman behind Lek Lim Nonya Cake Confectionery who insists on still making the Nonya snacks, ang ku kueh, peng kueh and soon kueh by hand. You might be surprised to find Gavan Sing, in his early 30s, who eschews machines despite the potential for ramping up production.
Gavan says, "You can't get that personal attention to each piece, or adjust for errors, if you use machines. The human eye and hand can weigh and gauge if the dough is of the right texture and moistness. We can add more flour or water to make it right. We can make sure the filling is adequate."
He also says the machines use too much pressure. "The rice filling inside peng kueh gets too compressed; you can barely taste the individual grains. Similarly, with soon kueh, the delicate turnip filling tends to get too crushed."
He is right – his handmade soon kueh does taste different from the run-of-the-mill varieties. The skin is extra light, giving a bouncy feel with each bite. And the fillings aren't a compressed mush.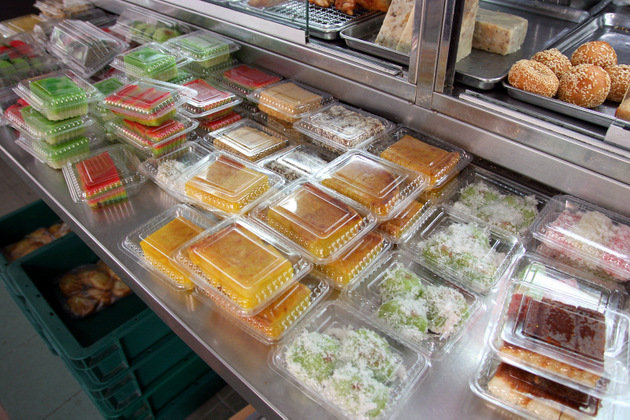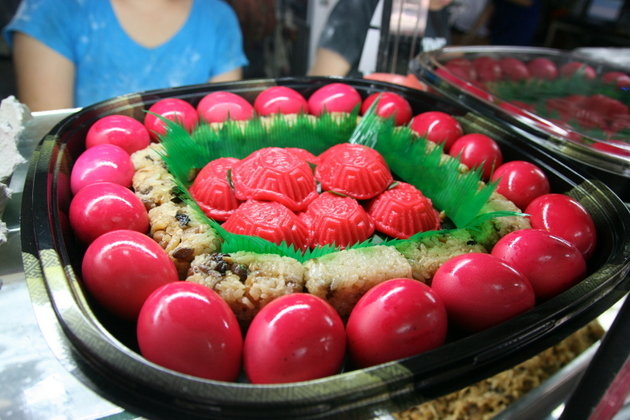 But this kind of artisanal dedication is under threat from labour and cost challenges, as well as changing tastes.
Gavan Sing had quit his jet-setting job in oil and gas to help his parents continue the family business. His wife also quit hers and now helps out with the administrative operations.
Their day starts from 4am to 6pm. Yes, it's often 14-16 hour days, in sweltering heat of the steamers in the shop. Four foreign workers, three local aunties that have been with them for decades, and a temp girl help out with the production. But the restriction on foreign workers is getting tighter, and the elderly aunties are retiring soon. Younger Singaporeans aren't interested in this kind of unglamorous work. So, his labour force will start shrinking as soon as 2013. So he needs to think about adjusting his production quantity or range.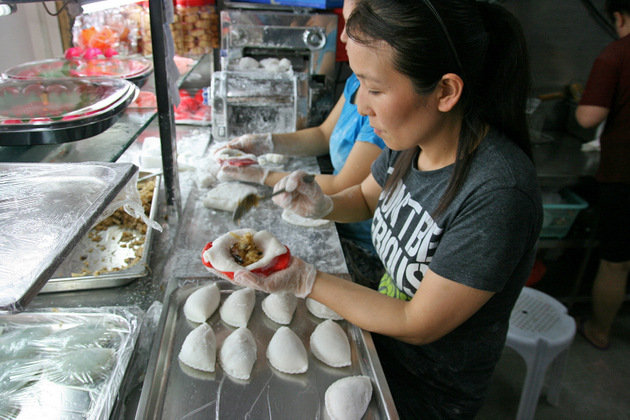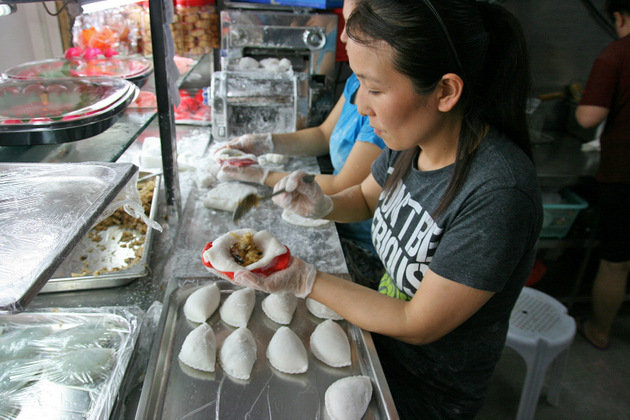 Adding to the squeeze is the rising cost of ingredients. This has almost doubled in the past few years, but Gavan is not able to increase the prices accordingly, as the customers are mainly heartland residents nearby who can be price-sensitive.
"We have to look for other ways to cut costs – streamlining operations, increasing efficiency, and so forth," says Gavan. But it's still no to machines for making the kueh.
His grandparents started the business in 1968; it was a just a home kitchen then. They learnt how to make Nonya kueh from a Peranakan "sifu" (master). Later on, they focused on making ang ku kueh because of the demand, especially for month old baby celebrations. In 1987, they moved to their current premises at Bedok North. They reintroduced Nonya kueh in 2005 and added soon kueh and deep-fried items later.
"Tastes are changing," says Gavan. "Our best-selling items now are the fried items and soon kueh. Customers are mostly office workers and the older residents from the area. Young kids are not keen, and don't even consider these as snacks. They'd rather go for bubble tea and fries."
The challenges that Lek Lim faces is probably quite typical of traditional handmade kueh businesses. But Gavan remains upbeat and is thinking of creative ways to engage the younger set to get them interested in traditional kueh. Let's hope for the sake of good handmade kueh that he succeeds.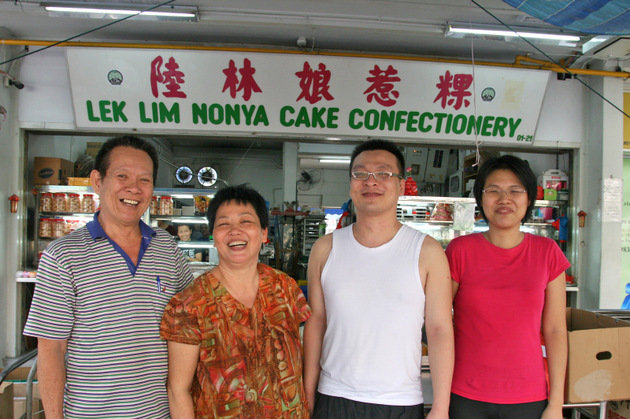 Lek Lim Nonya Cake Confectionery is at Block 84, Bedok North Street 4, #01-21, Singapore 460084. Look them up on www.facebook.com/LekLimNonyaCake too, as they show videos of how they prepare their kuehs.