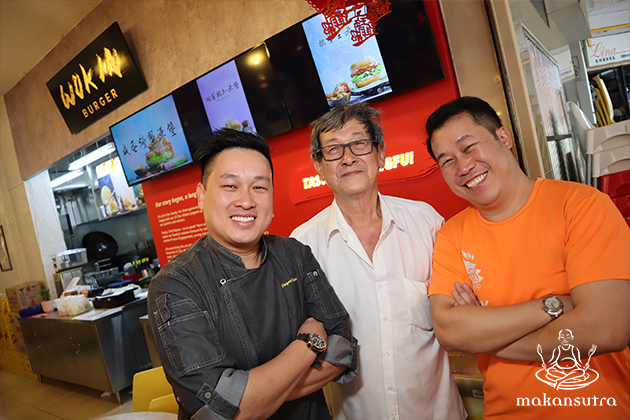 Wok Into a New Cze Cha Concept
By KF Seetoh - Friday, Feb 22, 2019
They once offered it as side menu try-try-see-how items in their cze cha restaurant in Pandan Loop area and it met with mixed response. Their old school chief cook and father gave them a "no big deal" verdict then. But now, Wayne, Paul and Geraldine Liew, who were behind the cze cha burger idea at their defunct eatery in the west, are back again with a vengeance. They now have a dedicated hawker stall in dad's coffeeshop in Alexandra Village. The place reels the hungry hordes in for old popular classic items like Chili Crabs, Salted Egg Yolk this and that, sambal kangkong, coffee pork ribs etc, but Chef Wayne have now turned that into burgers and more, again.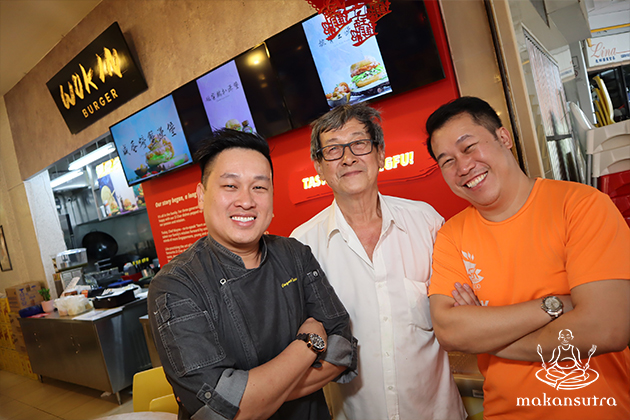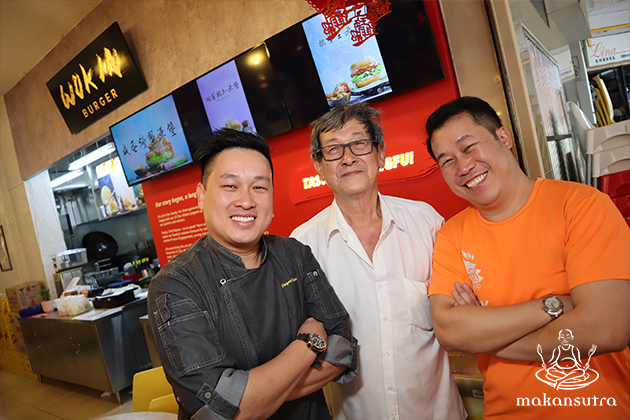 From Left, Wayne, Mr Liew and Paul
I have known that family for years and understand the stern, firm and confident ways of the senior Mr Liew Choy, 64, and it would take a mountain to convince him to accept new-fangled ideas, even from his kids. When I curiously asked, "I left it to my kids to do whatever they wanted, I trust them, I even went for a holiday and left them alone to set up the stall.", was his reply. But "not true la, he gave us the good-luck-I-am-gong-holiday smile" was Wayne's take on the situation when they set up shop. The kids have come a long way, having participated in numerous international food events and promotion gigs around the world, at Michelin food festivals and at the World Street Food Congress in Philippines and Singapore.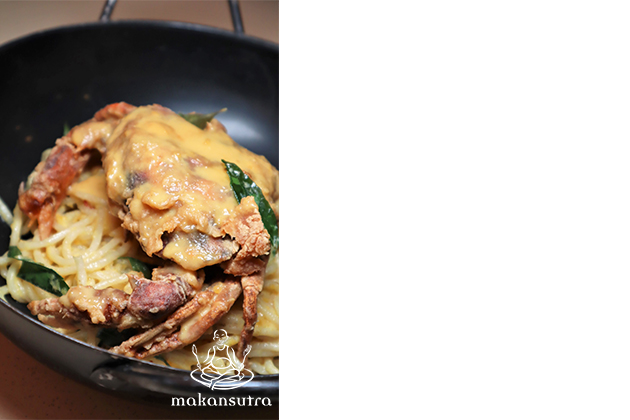 Comforting soft shell crab pasta
So here's my updated take- these truly local burgers are here to stay. They even have a Soft Shell Crab Salted Egg Yolk Spaghetti ($15) served like all the other burgers, in a little wok. It was an umami explosion, framed with fried curry leaves and a whole crispy and juicy tempura soft shell crab. But it would've held me hostage if some chilli flakes were dusted over too. The burgers, all had one element I like- texture. The patties were richly marinated, sauced and cleverly battered and fried for mouth-joy.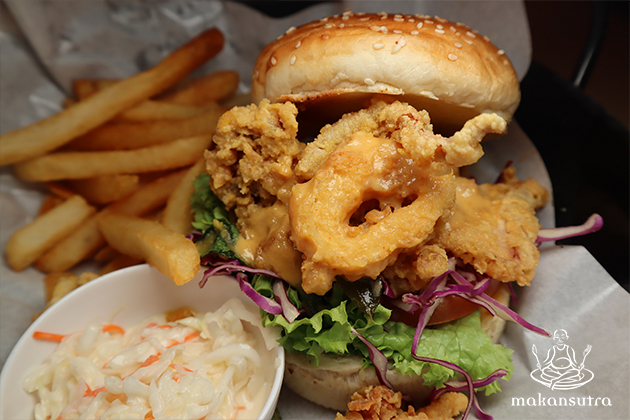 The adorably crunchy and crispy Sotong Blur-ger
When I saw the Sotong Blur-ger ($9.80), I had to immediately bite in. I never liked the chewy squid and bread combination but, they fried this one well, over high fire so the softness is retained and the crisp of the batter shines through. I like this one. The soft sesame seed buns held the crunchy squid rings boldened with salted egg yolk sauce with crispy greens below (again, I would've loved it with a smidgen of sambal smeared over, but that's just me).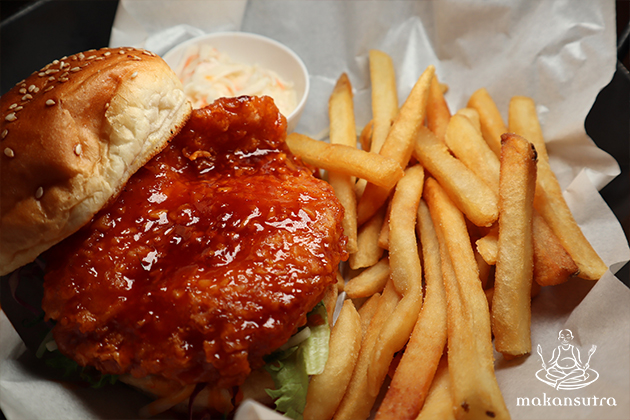 The safe-bet Pai Gu Wang Burger
The Pai Gu Wang ($9.80) or boneless pork ribs burger was very comforting. All the old social makan memory of sourish, sweet and savoury marinate and sauce with the meaty goodness was intact. If you need a safe bet for these burgers, call this one out. The Chilli Crab Sauce Soft Shell Burger ($15) was delightful. They use a bigger 120grams crab "which is meatier" and beautifully battered and fried. The cup of sourish, sweet and spicy chilli crab sauce is a DIY and it felt so right to the bite and the palate.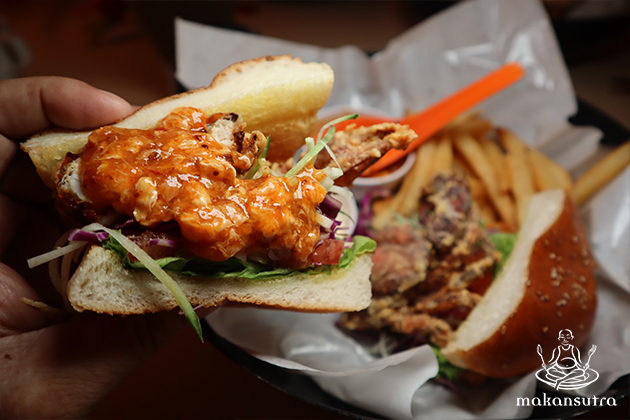 The luscious spicy soft shell chilli crab burger
We have so much to be proud of our street food heritage because of thinking and determined cooks like them, and it is so deserving of the Unesco Intangible Heritage of Culture award, (under application works currently) when they obtain it.
Wok In Burger
Blk 124 Bukit Merah Lane 1
#01-136
11.30am-2.30pm/ 5pm-10pm daily