World Street Food Language
By KF Seetoh - Friday, Jun 14, 2013
"Just keep cooking good food and all will be good." A day after Charles Thomas made that statement, he had his feet off the floor and on bed, down with the flu bug. His Eurotrash food truck from Portland Oregon, which offered soft shell crab burgers, was one of the best sellers at the recently ended World Street Food Jamboree, a part of the World Street Food Congress, held in Singapore recently. But the show went on, his local culinary school assistants, with help from street food expert friends from Vietnam and India who spoke no English, took over where he left off and pleasured the crowds that stood patiently in line for his food. They averaged 100 kilos of the crabs each day. "I have never sold so many in my life," he reflects. No one in the line cared that he was sick, maybe a concerned foodie or two asked about him, but everyone else wanted the burger, el pronto.
It could've degenerated into a mob effect if not properly managed. So the students found out where he stashed his beers, mixed that with flavour and flour, dipped the crab in and fried it to perfection. It sat between soft buns, wedged with lettuce, tomatoes and doused with a spicy mayo, yoghurt sauce.
Such is the power and appeal of street food culture. An overwhelming 80 per cent of folks in cities with a decent street food heritage rely on this form of culinary offerings. No frills, no pizzaz, just great food in your face inspired from culinary heritage significant to their homeland. It spoke to an international audience with moreish accents.
Street food is a culture that, at a social level, can help alleviate poverty, says Claus Meyer (of one of world's best restaurant, Noma) and similarly echoed by Anthony Bourdain (host of Parts Unknown on CNN). Teach a displaced or economically disadvantaged person the art of a perfect street dish, manage it well and they can monetise in overnight in a simple food cart. They can now fend for themselves. Thing is, governments and society must accept this culture. At the Dignity Kitchen (food court) in Kaki Bukit, social enterprise warrior Koh Seng Choon even teaches the disabled and physically challenged to cook street food and run a stall at his food court and help "regain their dignity" and be independent.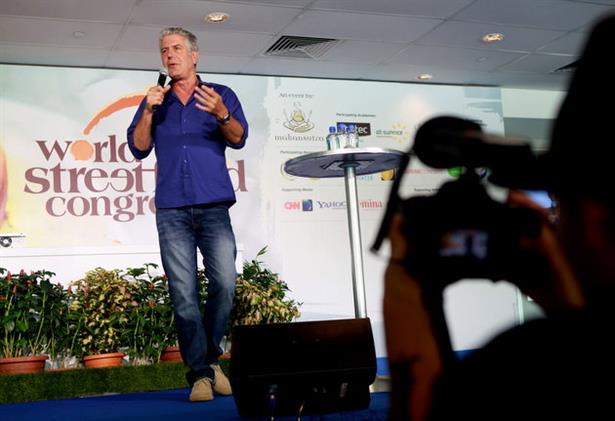 Street food lends character to a land. They tell you which country you are in. The slick and perfectly done humdrum hotel buffet line offering "continental" stuff, tells you nothing and offers you no experience of the place you are visiting. If comfort street food can talk, it's in the language of culture, something everyone will and want to understand.
In India, the NGO Nasvi (National Association of Street Vendors in India) dedicates itself to help fight for the legitimacy of up to 10 million itinerant street hawkers there. At least three million sell food. A motion of debate has already been tabled for discussion in their parliament and when those itinerant millions suddenly become legit overnight, the opportunities can be immense, even for a simple businessman. Street food in India is the language of hope and opportunities.
So if you are merely hoping that street food vendors must remain in the streets for the rest of their lives just so you can have this affair with its attendant charms, go ask them if they are willing to do this for you and if they too, have ambitions. Fight for their rights to exist and vend, and for this street food culture to be an avenue for poverty alleviation and for the many who cannot fit in our normal society and wants to take this culinary route less travelled. This is the main mission and cause of the World Street Food Congress.