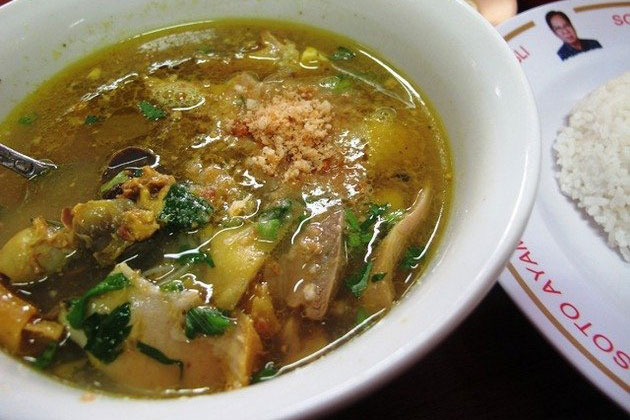 World's Most Modest Street Food Master
By KF Seetoh - Sunday, Aug 18, 2013
Pride at recognition
At the inaugural World Street Food Congress here in June, we announced the winner of the first-ever best World Street Food Master.The award went to a humble but successful soto seller in Indonesia. We announced it online, doing away with ostentatious ceremonies which is in line with the spirit of the humble but exciting street food culture.
But the foodie community in Indonesia would not settle for that. They arranged for a simple ceremony in a food court that won a Best Street Food Concept award- Eat and Eat at Gandaria City mall in Jakarta. They insisted that I show up to present the awards and I was so taken in by their pride , I rescheduled my appointments to make that trip.
A sizeable media team of about a dozen showed up, invited by Mr Bondan Winarno and William Wongso, the food supremos of Indonesia. Their various winners (four from Indonesia) showed up proudly to receive their certificates. The only one absent was Ibu Weti (who sells Balinese rice) as she could not make the trip from Sanur in Bali. I gave a simple speech and initially apologised for talking about food in the middle of their fasting season but I qualified with a "this is not about makan, it's about your food culture and pride you have for it".
Even Mr Afdal Fitra from Padang, who won an award for his outstanding beef rendang and nasi padang offerings, showed up in traditional finery, something they wear only on formal occasions. I was very taken by his gratitude and pride. CNN food show host Anthony Bourdain said of the many rendang he has had around the world, this one takes the cake.
I am musing about here because, no other nations and their foodies showed even that much pride in this recognition and awards of a great food culture, not even the winners of the Best Street Food City of the World award. Well done Indonesia.
World's most modest street food master
Up on the wall behind the counter in his food shop in Jakarta is a proud portrait, not of the Indonesian President Susilo Bambang Yudhiyono , but of the owner of the soto café, Pak Sadi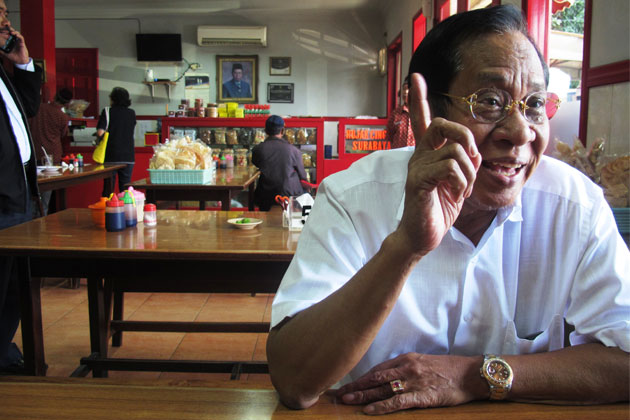 The café is a three storied shophouse in prime Jakarta area and he lives upstairs from his café. The first thing you notice is just how many Keropok (crackers) packs sit atop each table. You will realise just how important this plays in the food he offers, which was recently voted Best Street Food Master by the World Street Food Congress.
I finally had the chance to sit and muse with this humble and incredibly successful hawker. This nary educated former farmer from Surabaya is a role model of sorts. The Awards Committee, made up of an international group of very well traveled street food mavens , bloggers, commentators and writers, decided on Soto Ayam Ambengan Pak Sadi Asli not just because he offers one of the best soto (spiced soups) but also for what he represents. His humble beginning is an inspiration for the academically challenged or those who seek alternative professional routes in life. His currently 15 outlets, largely owned by his family and franchise clients, provide jobs and opportunities for entrepreneurs. His brand name is an icon in a country that is proud of their street food culture.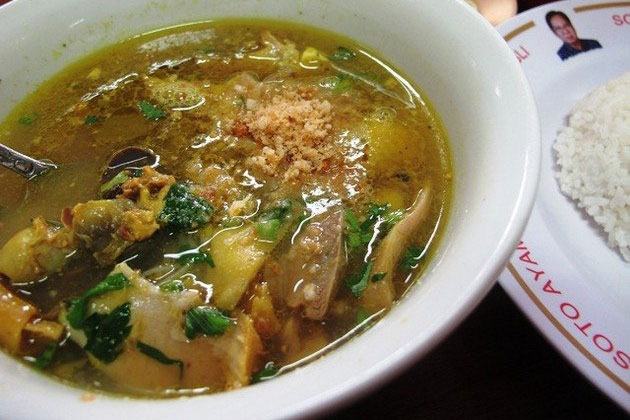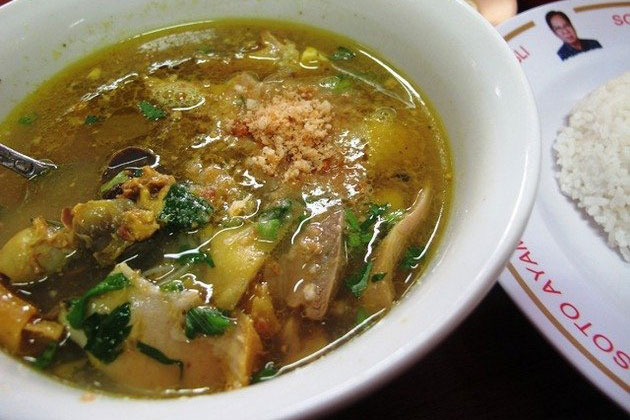 But all these would be public relations blah if there was no magic in his food. He serves Surabaya style chicken soto and stumbled upon success after two failed attempts in the 70s. He kept at it as he felt the recipe was not a problem and profit margins were good. Lady luck smiled when a senior government official and fan of his food, offered to let him set up outside his house for free, till he could afford some rental fees. It did not take long. Scores flocked to his little kaki lima (five legged street food cart) and the rest was Indonesian makan history.
He will not hesitate to tell you the secret of his recipe. It's not quite about the spices used, as that is common knowledge, coming from a land famed for their hundreds of soto styles. "I fry fresh milkfish, then blend them into a paste and introduce it to the soto spice base." , Pak Sadi confidently tells me, and I respected his honesty. But he goes on " the real secret is the "koya". And all at once I realised just why his soto has that moreish appeal which packs them in each meal hour and at snack time. "Koya" is a rough powder made from fresh fried finely chopped garlic mixed with, get this- finely crushed prawn crackers.
A bowl of refillable koya sits on the table and just one spoonful atop his soto ayam (chicken) was enough to make me think about the next visit, when I first had it ten years ago. The soto is smooth, just rich enough and not cloying with coconut milk overdose. Squeeze the wedge of lime over and the whole show is complete. You add your own amount of chilli , done without any salt or sugar so as not to infect the basic flavour. A "soto komplit" set comes with chicken, glass noodles, tripes, egg, gizzard, and chicken intestines, liver topped with koya and with a bowl of steamed rice sprinkled with fried shallots. It's quite hard to stop once you've started on it.
Congratulations Pak Sadi, and we look forward to you setting up shop in Singapore.
Soto Ayam Ambengan Pak Sadi Asli
Jalan Wolter Monginsidi Indah 28, Kebayoran Baru, South Jakarta, Indonesia
9am-10 pm daily