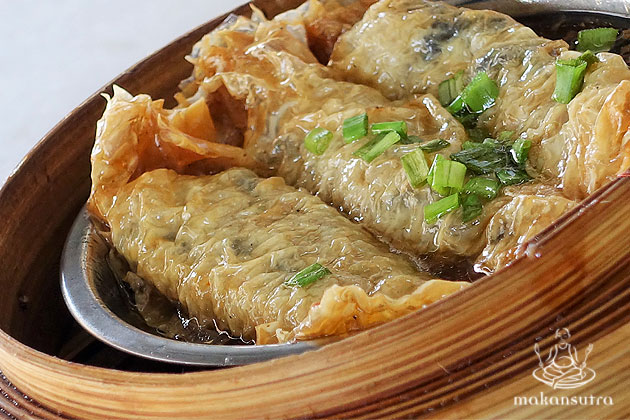 Yi Dian Xin: Easily a star too
By KF Seetoh - Monday, Jan 19, 2015
Finally, I recently made that trip to the much vaunted Michelin star rated dim sum restaurant which made its way from Hong Kong here. I have this gripe about their ranking system- are they rating people or brands? Some of these 3 Michelin establishments in their century old food guides have so many branches, I gave up counting. I wonder how, when "Ah Kow" won the accolade and assistant " Ah Miow" cooks at his branch and gets the recognition too.
Don't get me wrong, I am not discrediting the food from that famous dim sum joint. I have no real beef about it and the meal was good but not memorable. It was not as cheap as they say either. 6 items for 2 with barley drinks set me back by $42, and we just had the usual fare. Service was efficient and curt (used to that by now in Singapore) and I had no real qualms about it.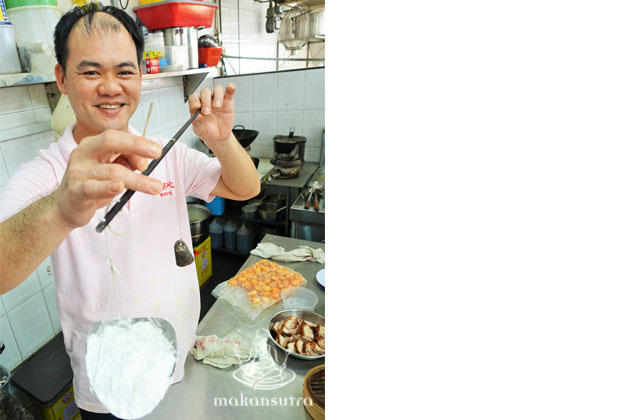 I pondered about it on my social media pages and some makan angels cited this "Malaysian but Singapore PR and trained in Hong Kong" dim sum hawker chef "somewhere in the Kovan area". So I made a couple of u-turns searching aimlessly and finally found Mr Tan Yik Foong, in his stall tucked quietly beside a busy economic rice station in a kopitiam.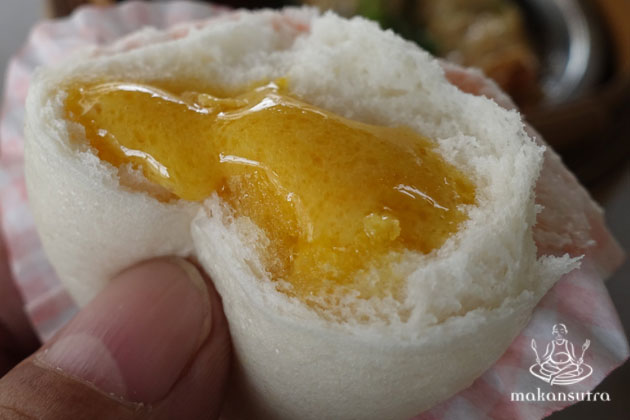 His stall didn't look much and in fact, quite uninspiring. "You should try our Liu Sa Pao and the usual stuff plus the tang jai chook (boat porridge)." I did plus more and then I saw him take out an old antique Chinese daching we weighing scale to measure his flour portions. Wow, I thought if it was some visual gimmick but he reassured me "these things was what I used all these while and they are more accurate, especially with the little portions". He spent his early years in Hong Kong and later had a gig in Genting Highlands and specialised in dim sum. His siew mai ($2.80) came with extra crunch from expertly braised black mushroom bits and just as resilient was the har kow ($3.30) that had one of the crunchiest little prawn fillings I've had in a hawker stall. I give him full marks for his "smiling" char siew pao pastry. So light and fluffy…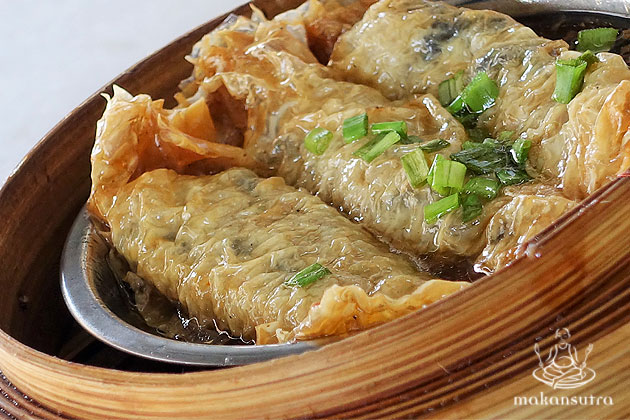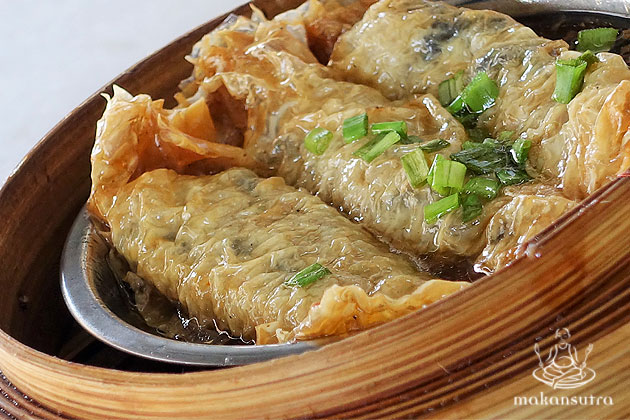 But not all were hits. I was not taken by the prawn cheong fun roll. The prawns was nice and crunchy and the rolls were soft and smooth but it lacked some flavour, perhaps needing a more robust sauce. He says the new local Singapore palate is not used to the old Hong Kong robust flavours but I beg to differ. Then he brought out the wu kok or yam puffs. It was one of the best I've had, bar none. It wasn't as oily and the filling was moist and savoury. The crust, which relies on the natural starch of the tuber, was cloud-fluffy crispy (only if it came freshly made and eaten el-pronto). I adored his fried and steamed bean skin rolls. The fillings was tightly packed in and gave such a nice texture. Instead of the usual century egg porridge, he offers a tang jai chook or "boat porridge" with peanuts, cuttlefish and minced pork with beehoon crispies. It was very comforting.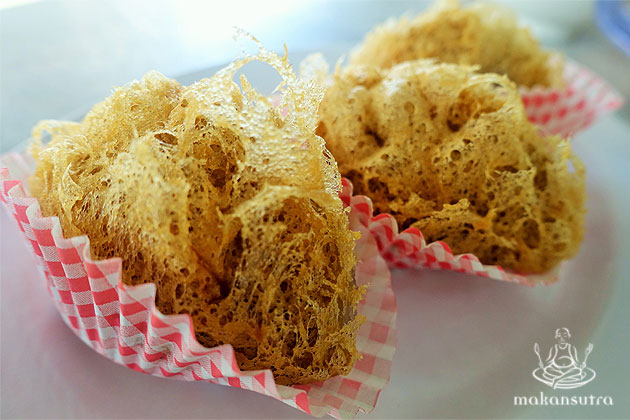 Easily, this chef deserves some Michelin star should they come rate with their yardsticks.
Yi Dian Xin
1012 Upper Serangoon Road
7am-5pm
Close alternate Tuesday
Hp: 91685587