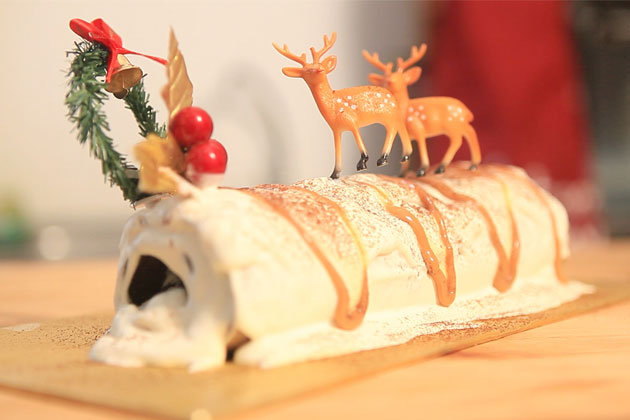 Yule Love This Kopi Gula Log Cake
By Text by Stefanie Chao, Images by Alex Khaw @ Makansutra - Friday, Dec 20, 2013
It's that time of the year again to indulge in that favourite sin, meal after meal this festive season with our nearest and dearest. But how many chocolate Yule Logs can you eat before realizing they all taste pretty similar? Perhaps they look entertainingly different, a conversational piece even. But we have a surprising local twist to that tale of log cakes.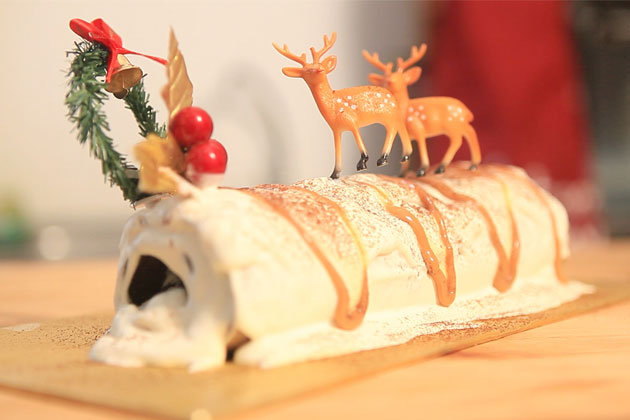 It starts with the firm favourite of most dessert fanatics – salted caramel. It is made a little more rich and milky because it starts off as a can of condensed milk! Do be very cautious in this process of pressure cooking, to turn the condensed milk into caramel. Known as "dulce de leche" (pronounced dool-se de le-che) with origins from South America, literally translated to "candied milk". There are a few ways to make this. This method, though not for the faint hearted, will also yield the most unctuous result. Begin up to a week before, to take the pressure off (literally!) yourself as you prepare for the sumptuous festive meal.
It is drizzled over a spongy Swiss roll, spiked with finely ground kopi, and sprinkled with coarsely chopped gula melaka which creates a nice textural and taste contrast.
Kopi Gula Log Cake
Ingredients for sponge cake: 6 eggs, 100g sugar, 100g top flour sifted twice, pinch of salt, 1/4 tsp vanilla extract, 2 tsp finely ground local coffee, 1 tsp evaporated milk.
Ingredients for filling: 1/3 cup coarsely chopped gula melaka, 1/3 cup salted condensed milk caramel (recipe follows), 250ml well-chilled whipping cream, 2 teaspoons sugar, seeds from a vanilla bean OR a few desired drops of vanilla extract.
Method: You begin by making that all important salted caramel.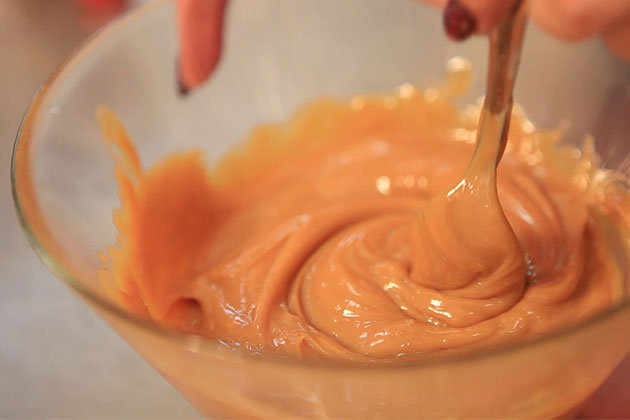 Remove the label from a tin of condensed milk, and punch 2 holes on the top of the can to prevent excess pressure from building up inside. Immerse the can 4/5 way in a heavy-based pot of water and bring to the boil. Lower to a simmer over medium-low heat and keep it going for 4 hours, topping it up when necessary with more hot water. Leave the can to cool completely, for 2 to 3 hours in the water. Remove it carefully and refrigerate it in its can until you are ready to use it.
When ready to use open the can and empty out the content (it should be a dark golden brown) and stir in 1/4 tsp sea salt (you may add a little more if you prefer it saltier). Leftovers are delicious as a topping for cupcakes, or a filling in macaroons.
To make sponge cake, preheat oven to 200C and line a Swiss roll tin with waxed baking paper. Break 6 eggs into a deep bowl that can withstand heat. Place bowl over a pan of simmering water, and beat eggs with an electric mixer or a balloon whisk to break yolks up. Add sugar, salt, evaporated milk and vanilla. Beat this over the simmering water until pale and triples in volume, about 5-8 minutes. Remove bowl from heat, sift coffee and flour in, then fold until just combined.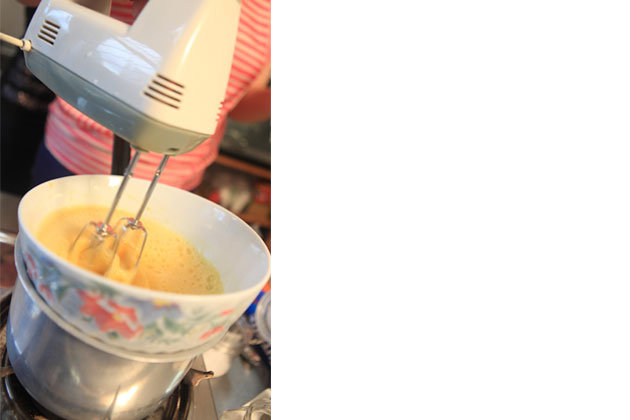 Tip batter into lined tin and bake for 10-12 minutes or until an inserted toothpick comes out clean. Leave it to cool completely. While sponge is cooling, whip cream to stiff peaks with 2 teaspoons sugar and the vanilla seeds OR the extract. Leave to chill in the fridge till ready to use.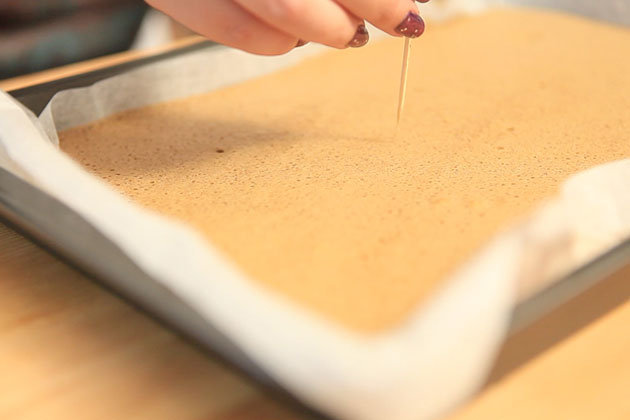 Spoon salted condensed milk caramel into a piping bag or a ziplock bag and snip off a corner. To roll the Yule log, prepare a sheet of waxed baking paper and sprinkle with some sugar to prevent sticking. Unmold the sponge onto the sugared paper and spread with about 1/3 of whipped cream, leaving a border around. Evenly sprinkle the chopped gula melaka and pipe the salted condensed milk caramel over.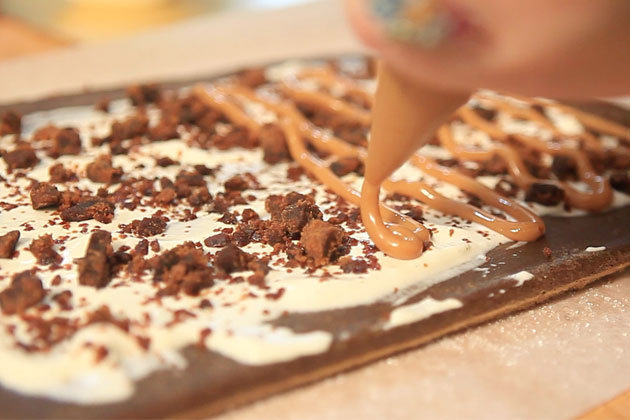 Roll up firmly, pulling the paper towards you as you tighten the Swiss roll. Chill the cake and remaining cream, for 15 minutes.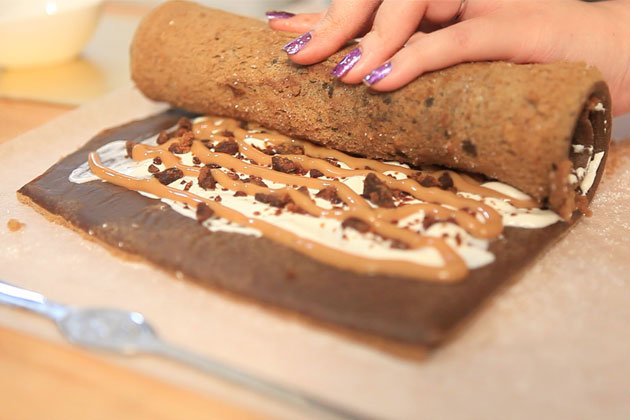 To finish, work quickly and spread the remaining cream over the cake, creating a snow drift effect. Pipe any remaining salted condensed milk caramel over and sift over a little coffee dust. Decorative holly and reindeers are optional!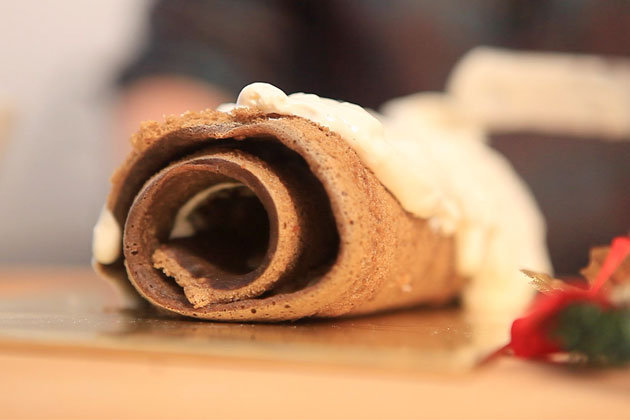 Chill till ready to eat and serve with cups of freshly brewed local coffee.